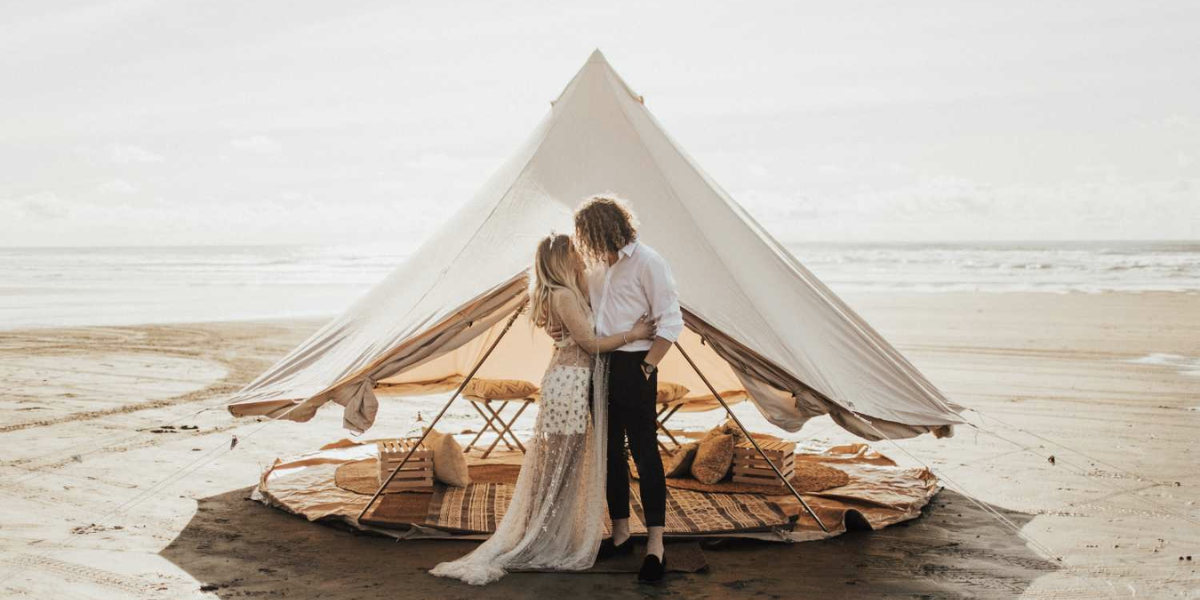 Transform Your Events with Commercial Bell Tents
Listen to this blog post here
Are you ready to take your events to a whole new level of enchantment and sophistication? Look no further than the magical world of commercial bell tents! These versatile wonders are the hottest trend in event planning, offering endless possibilities to make your events truly unforgettable. Let's explore the myriad ways these commercial bell tents can add a touch of charm to various occasions.
1. Yoga Retreats: Find Your Zen in Nature's Embrace
Imagine a group of serene individuals practicing yoga amidst nature, surrounded by the soft whisper of the wind and the gentle rustle of leaves. Bell tents create the perfect ambiance for yoga retreats, offering a harmonious blend of the outdoors and the comfort of an indoor space. Participants can immerse themselves in the practice while being sheltered from the elements, enhancing the overall experience. Yoga enthusiasts seek tranquility and connection – and your bell tents can provide just that.
2. Spa Services: Luxuriate in Tranquil Comfort
Transform your bell tent into a haven of relaxation and rejuvenation. With the right ambiance, these tents make ideal spaces for spa services. Imagine your clients unwinding with massages, facials, and beauty treatments in a cozy, intimate setting. The natural light filtering through the canvas adds a touch of warmth, enhancing the relaxation experience. It's not just a spa day; it's a retreat into tranquility, providing your clients with a memorable and soothing escape from their everyday lives.
3. Glamping Adventures: Experience Nature with Glamour
Glamping, the fusion of glamour and camping, has become immensely popular, and bell tents are at the forefront of this trend. Offering a luxurious outdoor accommodation experience, these tents can be transformed into cozy nests with comfortable beds, soft blankets, and stylish decor. Glamping enthusiasts seek the thrill of the outdoors without compromising on comfort. Bell tents provide the perfect solution, allowing guests to immerse themselves in nature while enjoying the amenities of a hotel room. It's an adventure that combines the best of both worlds.
4. Birthday Parties: Celebrate in Style
Make birthdays extra special by incorporating bell tents into the celebration. Whether it's a child's playful birthday bash or an elegant soirée for adults, these tents add a touch of whimsy and sophistication to the event. Imagine colorful decorations, soft cushions, and joyful laughter filling the air inside the bell tent. It becomes a magical space where birthday wishes come true, creating cherished memories for the guest of honor and their friends and family.
5. Corporate Retreats: Foster Team Bonding in Nature's Embrace
Corporate retreats are no longer confined to bland meeting rooms. Bell tents offer a unique setting for team-building activities, workshops, and brainstorming sessions. The natural surroundings inspire creativity and innovation, while the cozy interior of the tent fosters camaraderie among colleagues. Picture a group of professionals gathered around a campfire, sharing ideas under the vast expanse of the sky. It's not just a retreat; it's an opportunity for your clients to nurture their team dynamics and recharge their creative energies.
6. Wedding Photo Opportunities: Capture Love in a Captivating Setting
Weddings are brimming with special moments, and bell tents provide a picturesque backdrop for capturing these memories. Whether it's a bride and groom sharing an intimate moment or the entire bridal party gathered under the elegant canopy, these tents add a touch of rustic romance to wedding photos. Photographers adore the versatility and charm these tents bring to their shots, making every frame a work of art.
Now, let's talk numbers. Wondering about the average rental fee for these commercial bell tents? Well, the investment is indeed worth it. On average, the rental fee for a commercial bell tent ranges from $500 to $1000 per day, depending on the size, amenities, and location. Considering the unique ambiance and versatility these tents offer, clients are more than willing to pay a premium for the experience. It's an investment that not only pays off financially but also elevates your reputation as a provider of exceptional event experiences.
The possibilities with commercial bell tents are as vast as the sky above. By incorporating these magical structures into your offerings, you're not just providing a service; you're creating unforgettable moments and crafting experiences that will be cherished for a lifetime. Embrace the magic of commercial bell tents, and watch your events transform into extraordinary, enchanting experiences. Happy tenting!