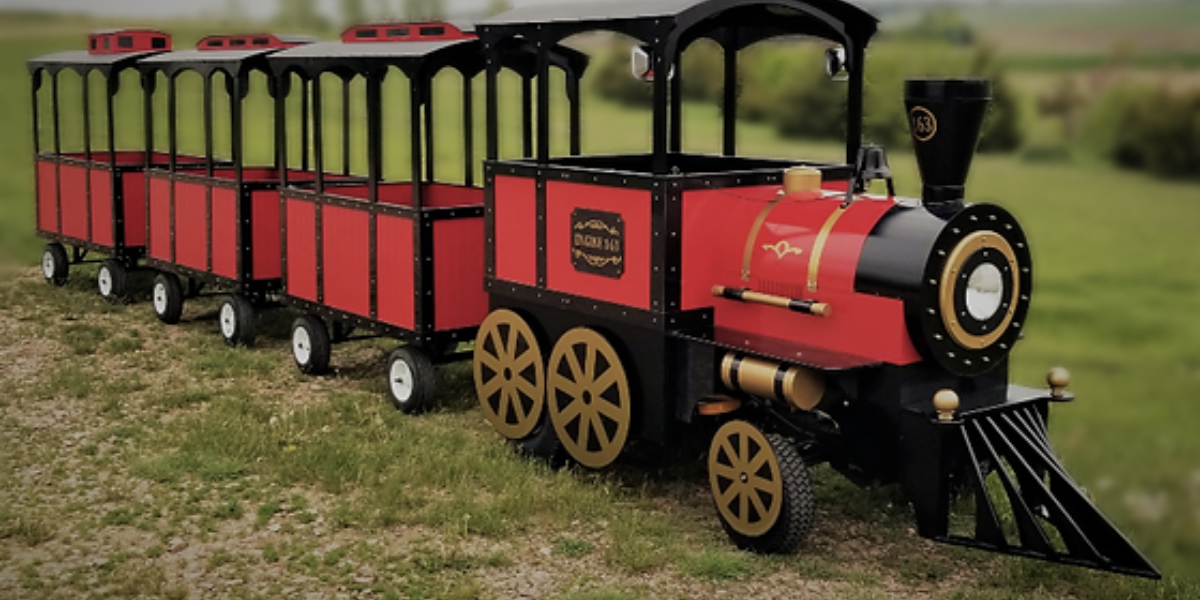 Start A Trackless Train Rental Business
Listen to this blog post here
All Aboard the Fun Train: Boost Your Party Rental Business with Trackless Trains!
Hey there, party people and event enthusiasts! If you're in the party rental business or own an event venue, you know that staying ahead of the game means offering unique, exciting, and memorable experiences. One way to take your events to the next level is by adding trackless trains to your offerings. Not only do these mini locomotives guarantee hours of entertainment, but they can also drive your business full steam ahead! In this post, we'll chug through the different types of trackless trains available, the types of businesses that benefit from them, the events they're perfect for, and the average rental fees.
Unveiling the Fascinating World of Trackless Trains
Trackless trains, as the name suggests, are miniature locomotives designed to mimic the charm of traditional trains. The unique aspect of these trains is that they don't require tracks to operate. They run on wheels and can navigate various terrains, offering a flexible and fun-filled ride for passengers of all ages.
Types of Trackless Trains:
First things first, let's talk about the variety of trackless trains on the market. There's a trackless train for every occasion and theme! Whether you're organizing a birthday bash, a carnival, a fair, or a corporate event, there's a train to match the vibe. From colorful, whimsical trains that cater to children's parties to elegant, classic locomotives perfect for weddings, you can find a trackless train that suits your specific event needs. Some models even come with themed carriages, adding an extra layer of charm to your festivities.
Businesses That Benefit from Offering Trackless Trains
So, who stands to gain from adding these whimsical wonders to their offerings? Here are some businesses that can benefit immensely from trackless trains:
Party Rental Businesses: If you're running a party rental business, trackless trains can be a fabulous addition to your portfolio. They can complement a wide range of events, from birthday parties and family reunions to corporate gatherings.

Event Venues: Event venues that host weddings, family reunions, and corporate events can elevate their services by offering trackless trains. It's an excellent way to set your venue apart from the competition and make your clients' events unforgettable.

Amusement Parks and Attractions: Amusement parks and large family entertainment centers can also reap the rewards of trackless trains. They provide a delightful experience for visitors of all ages, adding value to the park's offerings.
Events Where Trackless Trains Shine
Now that you know which businesses can benefit from trackless trains, let's explore the events where these charming locomotives truly shine:
Birthday Parties: Children's birthday parties become extra special when a trackless train rolls in. Kids and parents alike will be delighted by this unique party attraction.

Family Reunions: Family reunions often span generations, and a trackless train is something that appeals to everyone, from grandparents to grandchildren.

Weddings: Want to add a touch of whimsy to your wedding venue? Trackless trains can transport guests to and from various parts of the venue, creating unforgettable memories for the couple and their guests.

Corporate Events: Whether it's a company picnic, team-building day, or an outdoor event, trackless trains can provide a fun and light-hearted activity for employees and clients.

Community Festivals: Trackless trains can be a standout attraction at community festivals, fairs, and local events, drawing in families and creating a buzz.
Average Rental Fees:
When it comes to the cost, trackless trains offer excellent value for money. The rental fees can vary based on factors like the type of train, duration of rental, and additional services provided. On average, trackless train rentals can range from $200 to $500 per hour, making it an affordable and attractive option for both event organizers and attendees. Considering the joy and excitement these trains bring, it's a small price to pay for creating unforgettable memories.
The enchanting world of trackless trains is a fantastic addition to your party rental business or event venue. They offer a unique and magical experience that can cater to a wide range of events, from children's birthday parties to corporate gatherings. With a variety of trackless train options available, you can tailor your offerings to meet the preferences and themes of your clients. So, if you're looking to take your business to the next level and bring joy to your customers, consider hopping aboard the trackless train trend!
Whether you're starting a trackless train rental business or considering adding these charming locomotives to your event venue's offerings, the trackless train craze is full steam ahead, and it's time to ride the party wave with these magical, trackless wonders. Trackless trains are more than just a mode of transportation; they're a ticket to unforgettable memories for everyone on board.