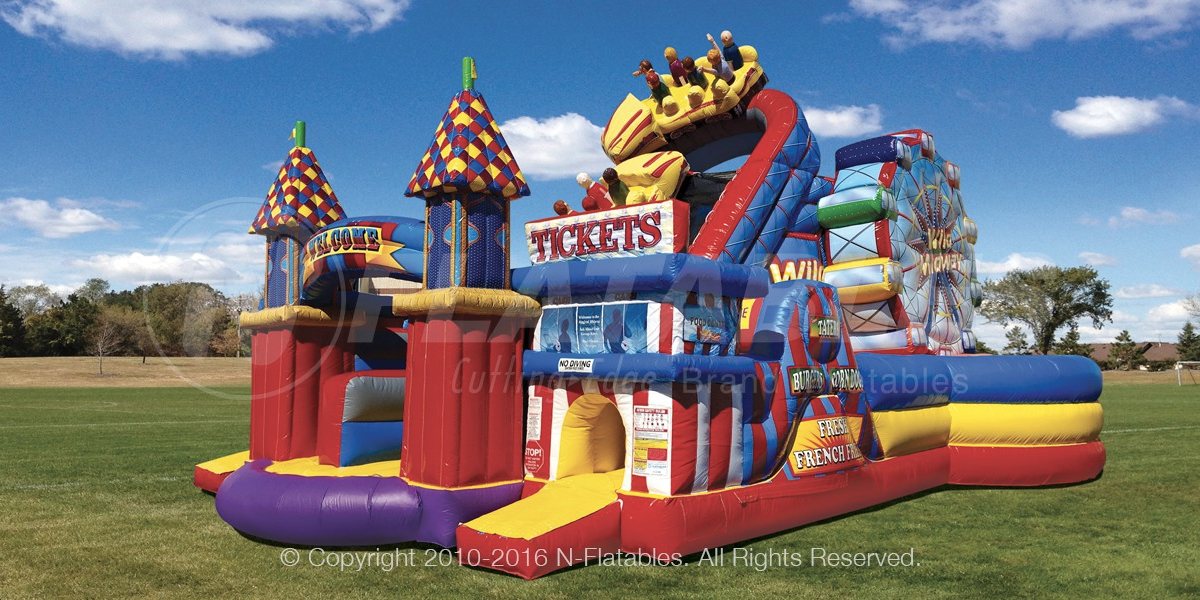 How To Start A Bounce House Business
Are you thinking of starting a bounce house business? Do you want to buy commercial bounce houses and inflatables to rent out? Have you decided you want to start a bounce house business, but just not quite sure where to start? 
If you want to start a bounce house business and begin renting out bounce houses and inflatables, keep reading this blog. We will go over everything you need to know to get started in the bounce house rental business. With our extensive catalog of commercial bounce houses and inflatables, we have many years of experience in the bounce house rental business and tons of knowledge to share!
Here are 8 things you need to do to start a bounce house business: 
Business Name
Decide on a business name that sets you apart from your local competition. This may require some market research to find out the business names of other bounce house rental businesses in your local area. Make sure you pick a business name you like, is easy to pronounce, explains what your business does and is different from your competitors business names. 
Create a Website
Establishing an online presence will be important for customers to be able to find you and confirm that your business is indeed real. Be sure to purchase the URL and reserve all social media pages such as Instagram and Facebook with your business name. When you are just starting out, you don't need anything fancy. A simple website that explains what you offer (with photos!) and how customers can book with you will be the most important. Which leads us to the next thing on the list...
Business Contact
You must have an easy way for customers to contact you and book with you! Creating a reservation system on your website is easy to do with most drag and drop website creators. On your website make sure your phone number and email are clearly visible so customers can reach you with any questions or booking requests. 
Buy A Bounce House
You can't start a bounce house business without buying your first inflatable! We make that process easy for you. With tons of styles and colors to choose from, give us a call and we will be happy to help you find the perfect commercial bounce house to start your business. Be sure to practice inflating your bounce house at home first so when you do get to your first job site, you are ready to rock and roll.
Create A Rental Agreement
Having your customers sign a rental agreement before setting up their bounce house rental is an important step you should take to protect your business and your equipment. It's relatively easy to create a digital rental agreement that you can simply email to your customers who can then digitally sign it before reserving the bounce house rental. To help you get started with creating a rental agreement for your bounce house business, you can check out our Party Rental Contract Guide & Template.
Book Your First Rental
After you've established your business, bought your first inflatable and your customer signed your rental agreement, you are ready to book your first rental. Not sure how much to charge? Check out this blog we wrote on how much you should charge to rent a bounce house. First, do a celebratory dance because you booked your first rental and you are on your way to making money! Second, get excited because you are about to be the reason a child has a very special and memorable day. 
Get Referrals
Be sure to offer the most premium service possible on your first bounce house rental because this an opportunity to help your business grow. Be sure you make your business name and contact information known to those at the bounce house party and have business cards available for those who may be interested in renting out the bounce house. Getting referrals is the easiest and most effective way to grow your business without paying for marketing or advertising. 
Watch Your Business Grow!
As you get more referrals and get more bounce house bookings, watch your business grow! Have fun, make money and create special memories - this is what a bounce house business is all about. Go from one bounce house to two to three and so on! As your business grows and you are ready to invest in more commercial bounce houses and inflatables, we will be there for you!