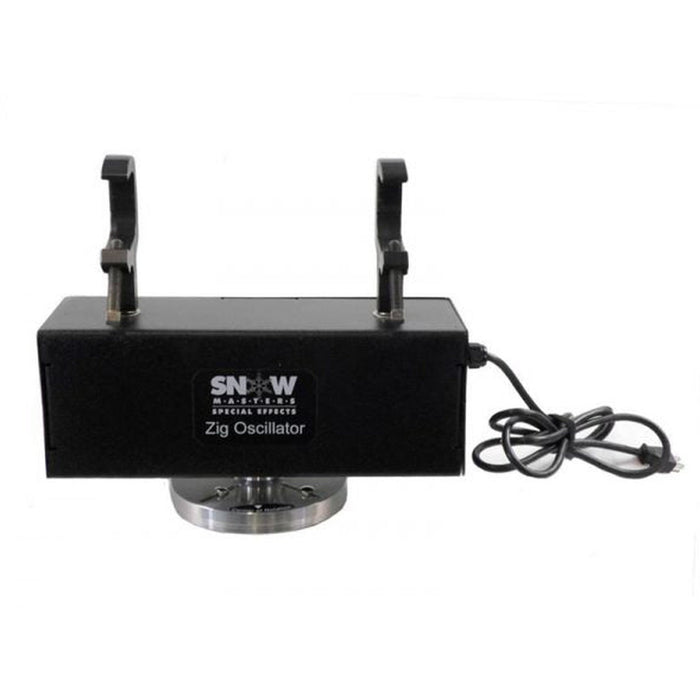 Zig Oscillator
Original price
$3,699.99
-
Original price
$3,699.99
Introducing the Zig Oscillator Motorized Rotating Mount – the ultimate solution for enhancing your snowfall effects! This innovative mount is easily attachable to any hanging bracket, providing a dynamic range of motion for your snow machine.

Key Features:

Rotates Between Three Angles: Choose from 15, 45, or 90-degree rotations to achieve your desired snowfall effect. The maximum rotation capability is 90 degrees.
4-Channel DMX Control: Enjoy precise control over your snow machine's rotation with 4-channel DMX capabilities, and take advantage of variable standalone features.
Easy Installation: The package includes a Snow Machine mount and truss attachment via dual C-Clamps, making setup a breeze.
Increased Snow Disbursement: Designed to maximize the coverage area, this mount effectively boosts the spray pattern of a single snow machine, simulating the output of three machines.
Customizable Rotation Angle: While the default angle is set at 90 degrees, you can customize it to either 15 or 45 degrees to suit your specific needs.
Heavy-Duty Capacity: Built to handle up to 75 pounds of hanging weight, ensuring stability during operation.

Upgrade your snow effects with the Zig Oscillator Motorized Rotating Mount – a game-changer for snow machine enthusiasts!
Size of Unit
16″L x 14″W x 6″H
Weight: 21.5 lbs
Material: 14 ga. Mild steel housing
Electrical Requirements
100 Watts, 110V or 220V Plus the separate power supply for the machine(s) attached
Rotation: Factory set to 90 degrees, can also be ordered set to 15 or 45 degrees