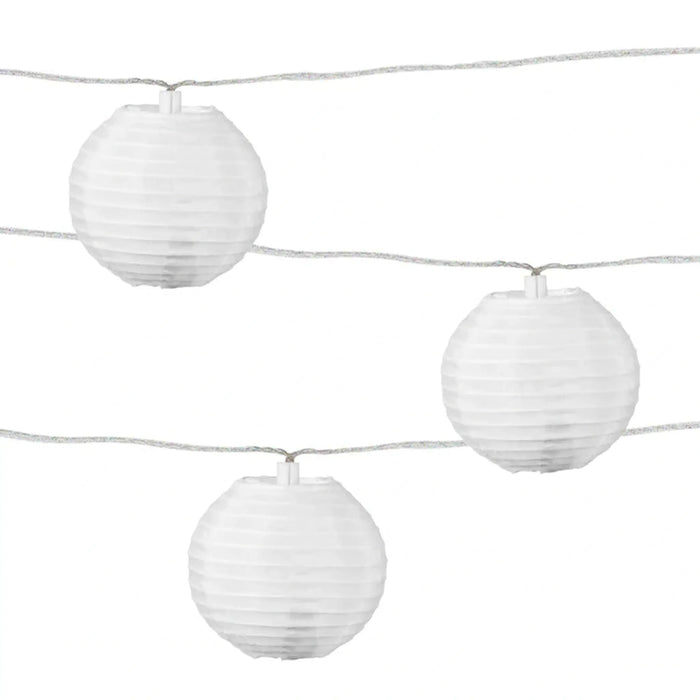 Solar String Lights
Original price
$39.99
-
Original price
$39.99
The Soji Solar String Light set is a delightful and festive addition to any outdoor space. This set includes ten spherical nylon lanterns, each measuring three inches in diameter, attached to the string of bulbs. These miniature lanterns resemble the popular Soji Original Solar Lantern but in a smaller size.

One of the standout features of these string lights is their automatic operation. As darkness falls, the lights turn on automatically, creating an enchanting glow night after night. This eliminates the need for manual switching and ensures a hassle-free experience.

The lanterns in the string light set are made from durable nylon material, which offers several advantages over traditional paper lanterns. Nylon is more weather-resistant and durable, allowing for year-round use outdoors. It can withstand the elements, making it suitable for various weather conditions.

Furthermore, these string lights are powered by the sun, making them eco-friendly and cost-effective. The solar panel absorbs sunlight during the day, charging the built-in rechargeable battery. This stored energy is then used to power the string lights, providing illumination at night without the need for electrical cords or batteries.

The Soji Solar String Lights are designed for easy installation and versatile use. The string measures a generous length, allowing you to decorate a large area or wrap it around trees, pergolas, or other outdoor structures. The soft, ambient glow emitted by the lanterns creates a magical atmosphere and adds a touch of elegance to your outdoor gatherings and celebrations.

Whether you're hosting a backyard party, illuminating your patio, or simply adding charm to your outdoor space, the Soji Solar String Light set is a fantastic choice. Its durable nylon construction, automatic operation, and eco-friendly solar power make it a convenient and environmentally conscious lighting solution for year-round enjoyment.
Dimensions: 10 nylon 3″ globes; each 24″ apart, with the solar panel 15′ away from the first of the ten lights. Total string length is 35′.
Material: Weather-resistant Nylon
Uses: Hanging
Battery: Included, (1 x AAA rechargeable NiMH 400 mAh 1.2v), replaceable (NOTE: Older versions of the string lights used 1 x AA battery)
Bulb: 10 x LED bulbs (cool white tone)
Solar Housing: Solar Panel 4″x4″ diameter, on/off switch with photosensor (Automatically turns on at night)
Rated for Outdoor Use: Yes, year-round
Packaging: 19.5″ H x 7″ W x 3″ D / 1.00 lbs