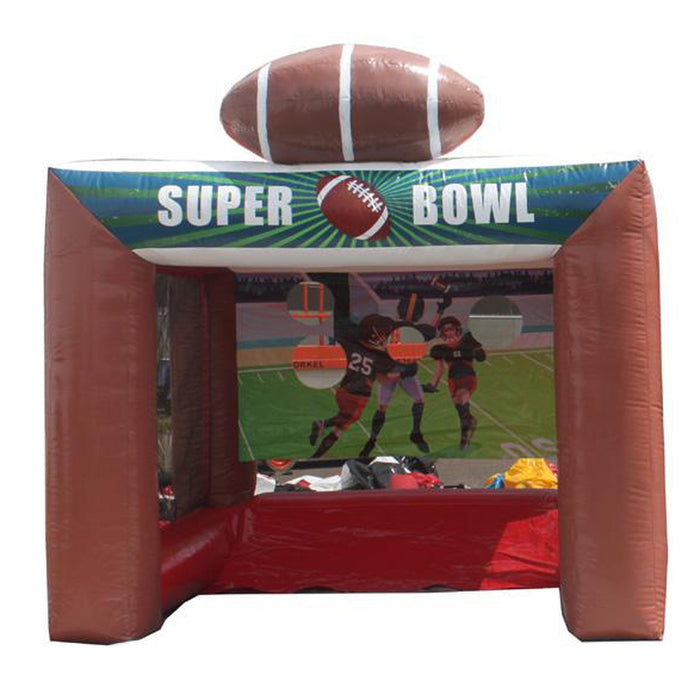 Football Game
Original price
$1,439.00
-
Original price
$1,439.00
Touchdown! Experience the excitement of the gridiron with our Football Game – a commercial-grade inflatable game that brings the thrill of football to your event! This interactive and competitive game is designed for football enthusiasts of all ages, offering an immersive experience of the beloved sport.
In the Football Game, players can showcase their passing and aiming skills by throwing footballs through designated targets or holes. Whether it's a friendly match or a competitive tournament, this inflatable game fosters teamwork, friendly competition, and sportsmanship. The vibrant football-themed artwork and realistic details create an engaging atmosphere, making every throw a memorable moment.
Key Specifications:
Materials: Crafted from commercial-grade, knife-coated, rip-stop, 15 oz PVC vinyl, this slide is both durable and visually appealing. The materials, made of 1300x1000 Denier mesh fabric with PVC coating, offer exceptional strength and flexibility.
Safety Assurance: Our inflatable games prioritize safety. They are FIRE RETARDANT and LEAD FREE, ensuring a secure environment for all participants. A safety step is standard, and anti-jumping safety netting on the slides prevents risky behavior. Anchors, safety straps, warning signs, and other safety indicators are meticulously integrated. Additionally, all inflatables meet or exceed ASTM and CPSIA standards.
Enhanced Features:
Secure Zippers: Reliable commercial-grade zippers with Velcro covers ensure easy access while maintaining security during play.

Leak Prevention: Integrated back flow flaps on deflation zippers reduce air leaks, guaranteeing the slide remains fully inflated for uninterrupted enjoyment.

Reinforced Construction: Double-layer material is strategically sewn on stress areas such as the bottom of the bounce house's pillars, pop-ups, entrances, and high traffic floor seams. This reinforces the structure, making it stronger and safer for users.

Professional Accessories: The inflatable comes complete with a blank business banner, business card holder, repair kit, storage bag, anchors, tie-down straps, and a warning sign. Additionally, the unit is FIRE RETARDANT and lead-free, ensuring top-notch safety standards.

Included Blower: The unit comes with the necessary blower(s), making setup hassle-free and allowing your customers to dive right into the fun.
INFLATED DIMENSION: 10 ft L X 10 ft W X 11 ft H
UNIT WEIGHT: 100 lb
BLOWER REQUIREMENTS: ONE 1.0HP BLOWER
STAKE ANCHORS: 6 ANCHORS
MAXIMUM CAPACITY: 180 LBS/1 Player at A Time
MAXIMUM WEIGHT: 180 LBS/PLAYER
ADDITIONAL INFORMATION:
Heavy duty vinyl material, fire retardant, and lead free;
100% double or quadrupled stitched with heavy duty nylon thread;
Reinforcement on all high traffic areas and high stress points
We are confident that all of our units will have superior durability and are all made to last. We believe that all units purchased from us are of the highest quality standards. To help ensure that your units will last, we include a one-year limited warranty on our commercial grade inflatables, ninety (90) Days on residential inflatables.

We will repair all units with issues resulting from defects in workmanship such as seam tears and openings and fabric tears. We will repair all units with such defects at no cost.

Units that have any form of damage resulting from improper or unsafe use, improper storage, accidents, vandalism, etc. are not covered by warranty. Zipper defects are typically not covered under warranty.