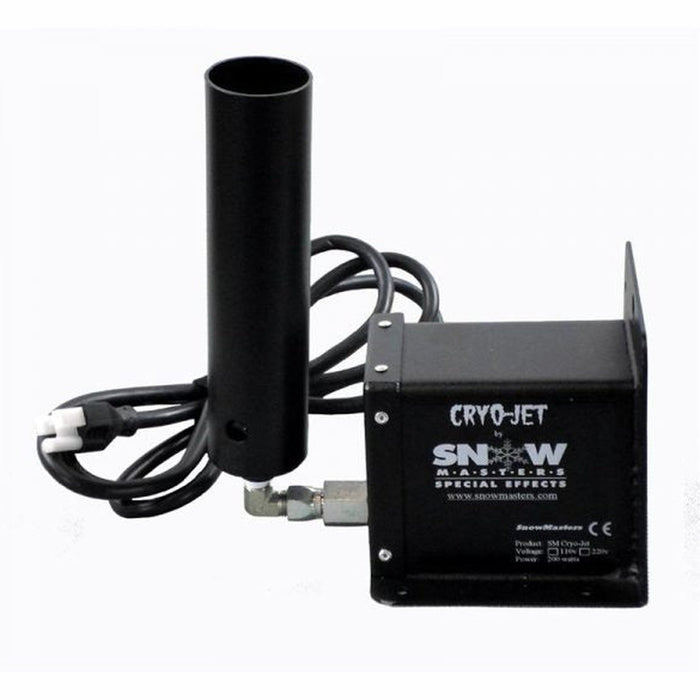 Cryo Jet
Original price
$1,999.99
-
Original price
$1,999.99
Transform your club or party into an unforgettable experience with our CO2 Cryo-Jet, designed to bring the wow factor to any dance floor. In just 6 seconds, you can take the temperature from a scorching 90 degrees to a frosty 30 degrees, creating a visually stunning effect that will leave your guests amazed.
Here's why our CO2 Cryo-Jet is a must-have for your next event:
Instant Cryo Sensation: Witness the magic as it produces incredible cryo plumes, reaching heights of up to an impressive 30 feet, instantly elevating the atmosphere.
Versatile Installation: Whether you want to hang it from a truss, mount it on a wall, or place it on the floor, our CO2 Cryo-Jet offers flexibility to suit your party's unique setup.
Effortless Control: With the optional CO2 Blaster Master Control (available separately), you can effortlessly release a burst of CO2 fog at the push of a button. Release the control, and the fog dissipates within seconds. Rest assured, CO2 leaves the room clean and safe.
Powered by Liquid CO2: This cutting-edge device runs on liquid CO2, securely housed within a robust metal container for safety.
You'll receive the CO2 Cryo-Jet unit, complete with a hose for easy connection to your CO2 tank. It's a small investment that guarantees an unforgettable party experience. Note: CO2 not included.
Don't miss out – take your event to the next level with the CO2 Cryo-Jet and create a mesmerizing ambiance that will leave a lasting impression on your guests. Get ready to chill out and party in style!
Dimensions
9"L x 5"W x 11"H
Weight: 7lbs
Material: Stainless Steel / MildSteel
Hardware: 20' 3000 PSI hose & standard CO2 tank connection
PSI: 0 – 2500
NoiseLevel:105db
Electrical Requirements
.3amp, 34watt, 110V circuit per unit | Also available in 220V and 100V
Lifetime Limited Warranty