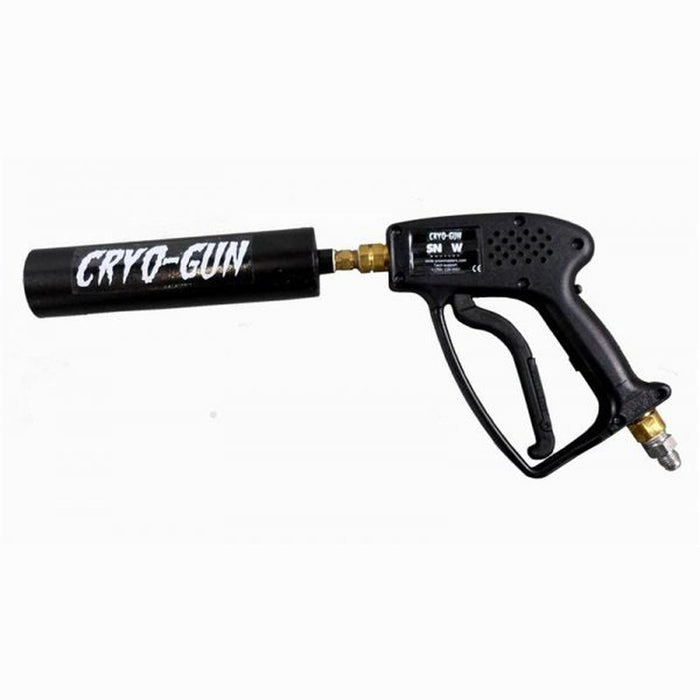 Cryo Gun
Original price
$749.99
-
Original price
$749.99
Experience the power of the Cryo-Gun, the handheld version of our incredibly popular Cryo-Jet. Designed for effortless setup and operation, the Cryo-Gun puts the control right in your hands. With a quick squeeze, it releases an impressive 15' x 4' CO2 plume exactly when and where you want it.
Here's why the Cryo-Gun is a game-changer for bars, clubs, dances, and more:
Instant Cool Down: When the heat's on, the Cryo-Gun cools the crowd down in mere seconds. Perfect for keeping the party going strong and the energy high.
DJ's Secret Weapon: DJs love the Cryo-Gun for that extra punch of excitement. Create a stunning visual spectacle right from the DJ booth, enhancing the overall experience.
Stage-Ready: In theater and stage productions, precision matters. The Cryo-Gun is your go-to for delivering that dramatic blast exactly where it's needed.
Please note that the Cryo-Gun requires a liquid CO2 tank (not provided), ensuring a continuous supply of cooling magic. It's the ultimate accessory to elevate any event or production.
Don't miss out on adding the Cryo-Gun to your toolkit – it's the secret to keeping your audience cool, engaged, and craving more! Get ready to make a dramatic impact with the Cryo-Gun at your fingertips.
Dimensions: 18″L x 2″W x 10″H
Weight: 5lbs
Material: ABS Mild Steel
PSI: 0-2600
Noise level: 110db
Hardware: 30" 3000 PSI hose and standard CO2 tank connection
Cryo-Gun fog plume shoots up to 156" high.
Plume tap is about 4° in width,
Manual hand-held pistol grip trigger.
Standard Black- custom colors available
upon request.

Lifetime Limited Warranty