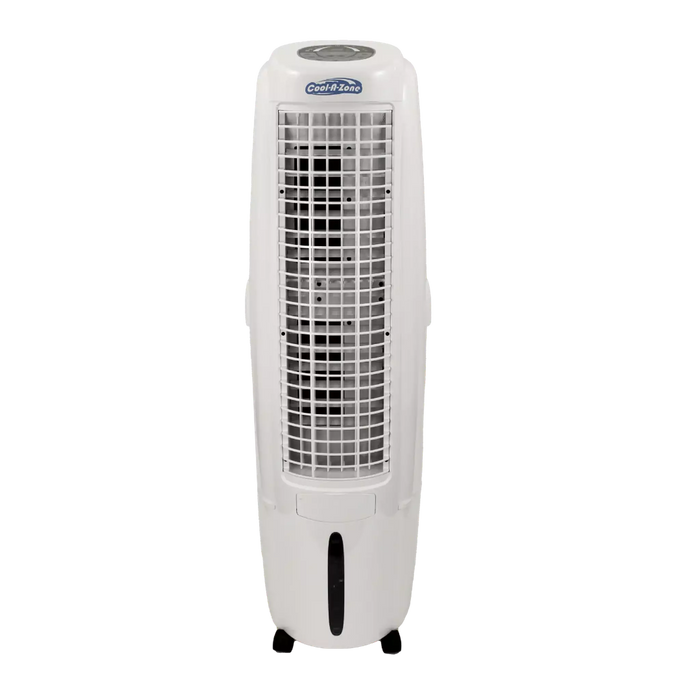 CoolBox C75
Original price
$699.99
-
Original price
$699.99
CoolBox C75: Your Outdoor Cooling Solution for Event Spaces, Patios & Restaurants
Lower Ambient Air Temperature: The CoolBox C75 is your ticket to keeping outdoor spaces cool and comfortable, even on scorching summer days.
No Installation Required: Say goodbye to complicated installations. Simply plug the C75 into a standard 110V outlet, fill the 8-gallon reservoir with water, and enjoy hassle-free cooling.
User-Friendly Control Panel and Remote: Adjusting fan speed and setting the digital timer for automatic shut-off is a breeze with the user-friendly control panel and included remote control.
Easy to Clean and Maintain: Designed for easy maintenance, the C75 ensures efficient and effective cooling for years to come.
Energy Efficiency: The C75 uses minimal power from a standard 110V outlet and water to significantly lower the ambient air temperature, making it an eco-friendly and cost-effective cooling solution.
Digital Timer Convenience: Set the built-in digital timer to control when the fan turns on or off, ensuring it runs only when needed.
Whisper-Quiet Operation: Enjoy the cool air without the disruptive noise. The C75 runs quietly, perfect for dining or indoor use.
Automatic Louvers: Vertical and horizontal oscillating louvers keep everyone cool without manual adjustments.
Control Panel and Remote: Whether up close or from a distance, the control panel and remote make fan adjustments effortless.
Customizable Cooling: Select from multiple fan speed settings to tailor the cooling experience to your preference.
Portable and Secure: Locking casters make the C75 easy to move and secure in place, ensuring cool air wherever you need it most.
Cooling Capacity 800 sq. ft.
Max Air Delivery 1600 CFM
Fan Type Centrifugal
Water Reservoir 8 Gallons
Width 15 Inches
Height 48 Inches
Depth 18 Inches
Electrical 110V - 2 Amps
Weight 26 lbs.
For one (1) year from date of purchase, we warrant any original component part or parts of its portable evaporative coolers (the "Equipment") that are found, upon examination by factory-authorized personnel, to be defective in material or workmanship.

If the Equipment and/or its original component parts develop a defect covered by this limited warranty within the applicable time periods described above, the same may be repaired by the customer after receiving the appropriate parts or entirely replaced with a new product.

All transportation charges for shipment of the equipment and/or its component parts that are submitted for replacement or repair under this warranty must be borne by the purchaser.

This warranty is void if: i) the equipment and/or its component parts are found to have been misused, abused, repaired by or tampered with by unqualified personnel; ii) any of the equipment's component parts have been replaced with parts that were not authorized replacement parts; iii) the product has been modified in any way; iv) the equipment has not been appropriately registered by its original purchaser; or v) the customer cannot show proof of purchase as the equipment's original owner.

Register your equipment within 14 days of receipt to guarantee coverage.