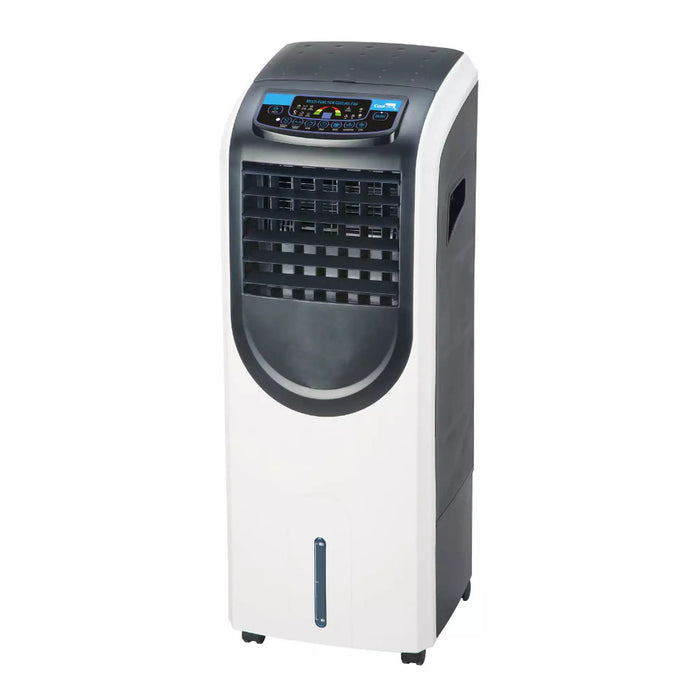 CoolBox C50
Original price
$499.99
-
Original price
$499.99
CoolBox C50: Your Cutting-Edge Portable Cooling Solution
Turbo Fan Technology for Maximum Cooling: The CoolBox C50 is equipped with turbo fan technology that delivers powerful and efficient cooling. It's the ideal solution for event spaces, restaurants, patios, and more.
Cooling Capacity for Large Areas: With a cooling capacity that covers up to 500 square feet, the CoolBox C50 ensures that even spacious areas stay comfortably cool.
Generous 5-Gallon Water Reservoir: You won't have to constantly refill the water with the CoolBox C50's substantial 5-gallon water reservoir. Enjoy extended cooling without interruptions.
Stay cool and comfortable in style with the CoolBox C50 – your go-to portable cooling solution for larger spaces.
Cooling Capacity 500 sq. ft.
Maximum Air Delivery 1500 CFM
Fan Type Turbo
Water Reservoir 5 Gallons
Width 15 Inches
Height 38 Inches
Depth 15 Inches
Electrical 110V - 3 Amps
For one (1) year from date of purchase, we warrant any original component part or parts of its portable evaporative coolers (the "Equipment") that are found, upon examination by factory-authorized personnel, to be defective in material or workmanship.

If the Equipment and/or its original component parts develop a defect covered by this limited warranty within the applicable time periods described above, the same may be repaired by the customer after receiving the appropriate parts or entirely replaced with a new product.

All transportation charges for shipment of the equipment and/or its component parts that are submitted for replacement or repair under this warranty must be borne by the purchaser.

This warranty is void if: i) the equipment and/or its component parts are found to have been misused, abused, repaired by or tampered with by unqualified personnel; ii) any of the equipment's component parts have been replaced with parts that were not authorized replacement parts; iii) the product has been modified in any way; iv) the equipment has not been appropriately registered by its original purchaser; or v) the customer cannot show proof of purchase as the equipment's original owner.

Register your equipment within 14 days of receipt to guarantee coverage.