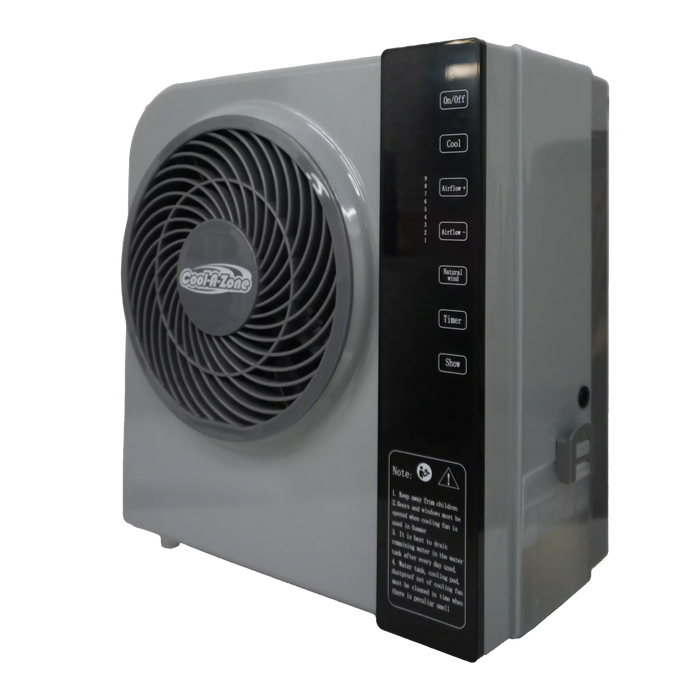 CoolBox C35
Original price
$249.99
-
Original price
$249.99
Introducing the CoolBox C35: Your Convenient Tabletop Evaporative Cooling Fan
Efficient Temperature Reduction: The CoolBox C35 effectively lowers the ambient air temperature in your living or work area. Say goodbye to sweltering heat as it provides a refreshing and cool atmosphere, enhancing your comfort throughout the year.
No-Hassle Installation: Enjoy the convenience of the CoolBox C35 with its installation-free design. Simply fill it with water, plug it in, and you're ready to experience a cooling sensation. Ideal for renters and those seeking a portable cooling option, you can effortlessly move it from room to room.
User-Friendly Operation: Operating the CoolBox C35 is a breeze thanks to its digital control panel. Adjust the fan speed and set the timer according to your cooling needs. Multiple speed settings and a digital timer make it easy to create a customized cooling schedule, saving energy and reducing your electricity expenses.
Effortless Maintenance: Keeping the CoolBox C35 in top-notch condition is simple. It features a removable water tank, washable honeycomb pad, and dust screen. Regular cleaning of these components ensures optimal cooling performance and long-term reliability.
Eco-Friendly Energy Efficiency: Reduce your carbon footprint and save on energy costs with the CoolBox C35. This energy-efficient cooling fan consumes significantly less power compared to traditional air conditioning units, contributing to a greener environment.
Whisper-Quiet Operation: Experience cool, tranquil surroundings with the CoolBox C35's whisper-quiet operation. Unlike noisy air conditioners, this cooling fan won't disrupt your peace and quiet, making it ideal for bedrooms, nurseries, and other serene spaces.
Intuitive Digital Control: The user-friendly digital control panel displays temperature, speed settings, and timer options, ensuring hassle-free customization of your cooling experience.
Tailored Cooling with Adjustable Speeds: Adapt to varying temperature and humidity levels with the CoolBox C35's adjustable speed settings. Choose the perfect cooling intensity for your environment, making it a versatile and adaptable cooling solution for any setting.
Discover the convenience and efficiency of the CoolBox C35 tabletop evaporative cooling fan – your ticket to a more comfortable and eco-friendly cooling experience.
Power 16W
Airflow Distance 13 Feet
Speeds 9 Speed
Air Supply Mode Normal Wind/Natural Wind
Water Tank Capacity 3.5 quarts
Product Dimensions 14.1 x 8.1 x 14.5 inches
Box Dimensions 15.1 x 9.2 x 15.7 inches
For one (1) year from date of purchase, we warrant any original component part or parts of its portable evaporative coolers (the "Equipment") that are found, upon examination by factory-authorized personnel, to be defective in material or workmanship.

If the Equipment and/or its original component parts develop a defect covered by this limited warranty within the applicable time periods described above, the same may be repaired by the customer after receiving the appropriate parts or entirely replaced with a new product.

All transportation charges for shipment of the equipment and/or its component parts that are submitted for replacement or repair under this warranty must be borne by the purchaser.

This warranty is void if: i) the equipment and/or its component parts are found to have been misused, abused, repaired by or tampered with by unqualified personnel; ii) any of the equipment's component parts have been replaced with parts that were not authorized replacement parts; iii) the product has been modified in any way; iv) the equipment has not been appropriately registered by its original purchaser; or v) the customer cannot show proof of purchase as the equipment's original owner.

Register your equipment within 14 days of receipt to guarantee coverage.