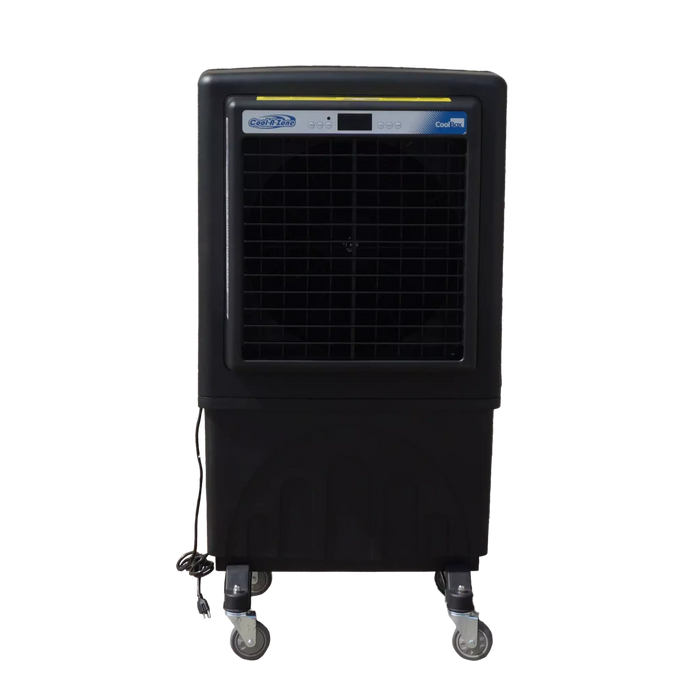 CoolBox C100
Original price
$1,399.99
-
Original price
$1,399.99
CoolBox C100: Ultimate Cooling for Your Space
Versatile Cooling Solution: The CoolBox C100 is your go-to cooling solution for event spaces, restaurants, and patios. Available in stylish black or white to suit your aesthetics.
Lower Ambient Air Temperature: Experience the power to lower ambient air temperature and keep your space comfortable, no matter how hot it gets.
No Installation Needed: Forget about complex installations and ductwork. Just plug it in, and you're ready to cool down.
Effortless Operation: User-friendliness is key. The C100 is easy to use, easy to clean, and easy to maintain, ensuring hassle-free cooling.
Energy Efficiency: Stay cool without the guilt. The C100 is energy-efficient, helping you save on power bills while being environmentally responsible.
Digital Timer Convenience: The built-in digital timer lets you set your desired cooling schedule. It's all about convenience.
Whisper-Quiet Operation: Enjoy a peaceful atmosphere. The C100 runs quietly, so you can relax and unwind without disruption.
Automatic Louvers: Stay cool from every angle. The automatic louvers distribute cool air effectively without manual adjustments.
Control Panel and Remote: Effortless control is at your fingertips. Use the control panel or the included remote for easy adjustments.
Customizable Cooling: Tailor your cooling experience with adjustable fan speeds. Find your perfect comfort level.
Portable and Secure: The C100 is equipped with wheels and locks, making it easy to move and secure in place. Cool any area with ease.
Cooling Capacity 1350 sq. ft.
Max Air Delivery 4120 CFM
Fan Type Axial
Water Reservoir 21 Gallons
Width 30 Inches
Height 55 Inches
Depth 23 Inches
Electrical 110V - 3.5 Amps
Weight 54 lbs.
For one (1) year from date of purchase, we warrant any original component part or parts of its portable evaporative coolers (the "Equipment") that are found, upon examination by factory-authorized personnel, to be defective in material or workmanship.

If the Equipment and/or its original component parts develop a defect covered by this limited warranty within the applicable time periods described above, the same may be repaired by the customer after receiving the appropriate parts or entirely replaced with a new product.

All transportation charges for shipment of the equipment and/or its component parts that are submitted for replacement or repair under this warranty must be borne by the purchaser.

This warranty is void if: i) the equipment and/or its component parts are found to have been misused, abused, repaired by or tampered with by unqualified personnel; ii) any of the equipment's component parts have been replaced with parts that were not authorized replacement parts; iii) the product has been modified in any way; iv) the equipment has not been appropriately registered by its original purchaser; or v) the customer cannot show proof of purchase as the equipment's original owner.

Register your equipment within 14 days of receipt to guarantee coverage.