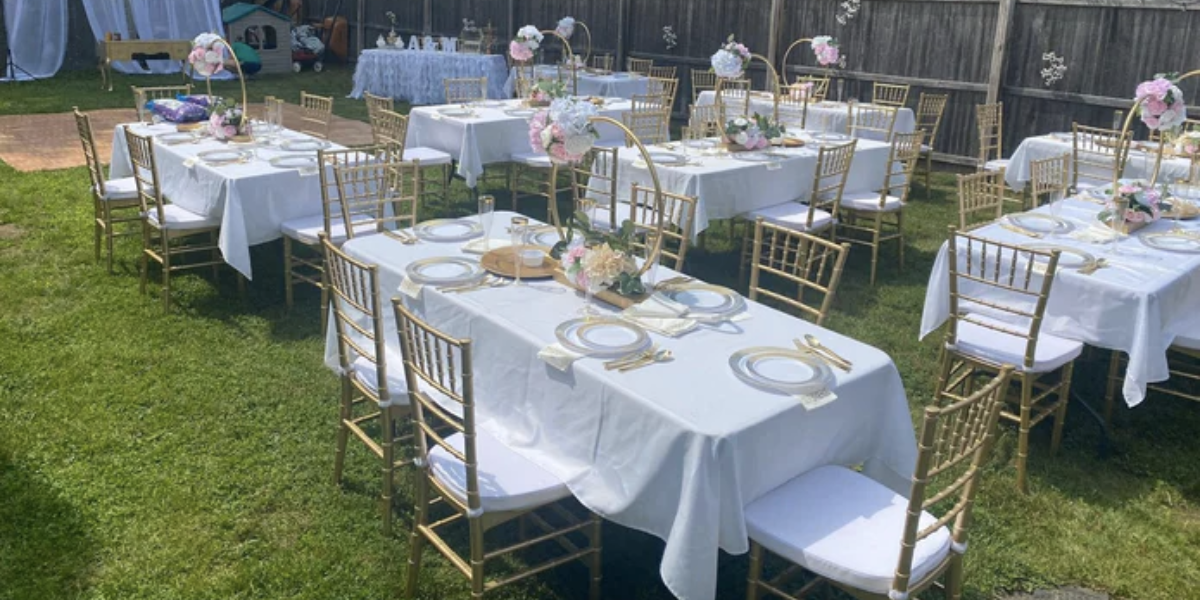 Wood vs. Resin Chiavari Chairs: Which is right for my business?
Are you looking to invest in chiavari chairs for your party rental business or event venue? Are you struggling to decide if wood chiavari chairs or resin chiavari chairs are right for your business? What's the difference between wood and resin chiavari chairs? Is one better than the other? 
Keep reading this blog if you are interested to learn more about the differences between wood chiavari chairs and resin chiavari chairs.
Which one is better for my party rental business or event venue? 
Even though the answer isn't black and white, there are some trends we do see with our event rental customers. Generally speaking, we do see party rental business operators prefer resin chiavari chairs while event venues favor wood chiavari chairs. Remember, this is a generalization and doesn't necessarily mean wood or resin will be right for your business strictly based on these factors.
After many years in the event equipment industry, we believe party rental business operators tend to favor resin chiavari chairs because they are more scratch resistant, lower maintenance, UV resistant and any marks or dings are much less visible. Party rental business operators are transporting these chairs to and from job sites and event spaces. Since these chairs are being constantly moved around - into a trailer, removed from the trailer, set up outside or indoors and then placed back into the trailer - this leaves much more opportunity for them to get scratched or worn. 
Event venues such as wedding venues, ballrooms, multi-use spaces, golf clubs and/or hotels tend to favor wood chiavairi chairs. Most of these event venues are not constantly transporting the chiavari chairs to and from event spaces. Most likely, the chairs are stored close by or even in the same room or space where the chiavari chairs will be set up. Less transportation means less chance of damage, marks or scuffs which is better for a wood chiavari chair that may be less scratch resistant. They also are more likely to be stored inside avoiding the external elements like sun. Secondly, the feeling of wood is still quite popular in the event chair industry. It offers a more luxurious and classic feel to any event which would be desirable for an event venue business that may be considered high end or luxury. 
When comparing products, price can't be the only factor to consider. Although, once you start shopping around you will see wood chiavari chairs are generally at a lower price point than resin chiavari chairs. If price is your only obstacle when adding chiavari chairs to your chair rental inventory, wood chiavari chairs may be the right choice to get started. Although, you will want to consider all of the factors talked about in this blog when making your choice between resin chiavari chairs and wood chiavari chairs. Saving money in the short term does not always serve you or your business in the long term. 
Feel free to give us a call today to chat about which chiavari chairs may be right for your business and we would be happy to put together a custom quote with competitive prices. The longer you are in the event business, the quicker you will notice the popularity of chiavari chairs and want to add them to your event rental equipment inventory today!