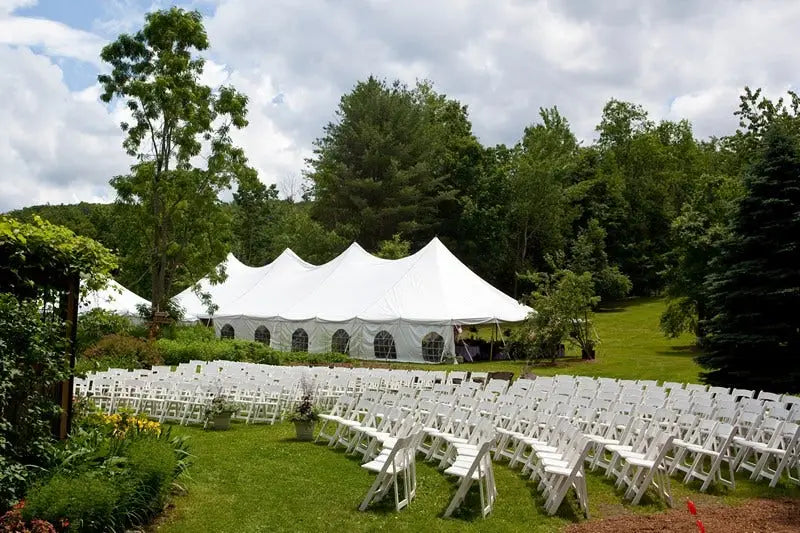 Wood vs. Resin Commercial Event Chairs
Are you ready to invest in commercial event chairs for your venue or party and event rental business? Are you not quite sure if you should buy wood or resin chairs? 
Look no further! This blog covers the difference between wood and resin chairs for your party and event rental business or venue. 
Do you own a party rental business, bounce house business, wedding venue, winery or restaurant? You probably need chairs to host guests and serve customers! Keep reading to find out the pros and cons of wood versus resin event chairs.
Here at Beyond Tent, we sell a variety of commercial chairs to use in your business. Give us a call today and we'd be happy to help you get the right chairs for your business. 
Wood Chairs
They look and feel nicer! Wood chairs feel more sturdy and they can definitely elevate any luxury event or wedding with their classic look. Wood chairs can often be found in event venues, restaurants and a wide variety of parties.
They last longer! A wood product tends to last longer than a resin chair. As long as you are storing your chairs properly, your wood chairs can last quite a long time.
They weigh more! This could be a pro or con depending on the type of business you run. A chair that weighs more can offer more strength, durability and a heavier weight capacity.
Resin Chairs
They are lightweight! This is the ideal chair for event and party rental business who find themselves transporting their chairs to and from event sites.
They are offered in a variety of colors! Resin chairs come in many more colors than wood chairs which allow you to offer you customers options in order to meet their design needs.
They are stronger than plastic! Resin is essentially a stronger plastic so you will find resin chairs are stronger and more durable than plastic chairs.
They are scratch-resistant! Resin chairs are less prone to scratching which allows you to keep your chairs looking great with minimal maintenance.

Check out this video on Youtube which is super helpful when deciding between wood and resin event chairs. 
Be sure to check out our catalog of event chairs here at Beyond Tent. From wood to resin to plastic, we've got every style of chair you could imagine for your party and event rental business!