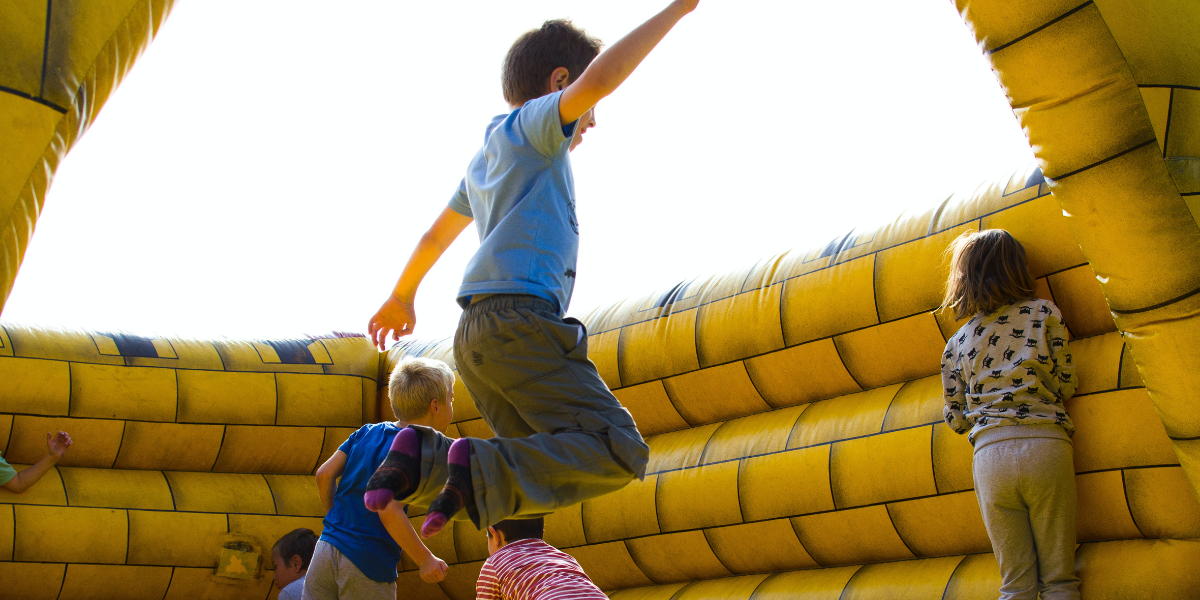 What Do I Need To Start a Party Rental Business?
Listen to this blog post here
Are you thinking of starting a party rental business but not quite sure how to get started? Have you been researching online what you need to start a party rental business? 
You've come to the right place! We are your party rental experts and love to support our customers who are getting started in the party rental business. If you want to know what you need to start a party rental business then keep reading. 
For the sake of quick and easy information, we are going to keep this very simple. These are what we like to call general rules of thumb when first navigating your way into starting a brand new party rental business. 
START WITH JUST ONE RENTAL ITEM
You heard that right! You need just one item to start a party rental business and we recommend only starting your inventory with one item for many good reasons. We suggest just starting with one tent, one inflatable or one type of furniture. This will help you get your feet wet and get a glimpse of what you will really need to scale a party rental business to be your full time job. It's also a great opportunity without investing a lot of money to see if you even like running a party rental business. 
START WITH JUST ONE SIMPLE ITEM
If you don't have a ton of product knowledge yet, we recommend starting with one simple item. What we mean by simple is a piece of rental equipment that doesn't have a lot of moving parts or components. You can give us a call to chat more details about the right "simple" item that would be good for your particular business. For example, we wouldn't recommend a 60x60 Pole Tent to someone who is just getting into the tent business as this is a more complicated item that requires industry knowledge. 
START SLOW
Starting your business slowly with one simple item gives you an opportunity to see what kind of potential your party rental business holds. We know you are starting a party rental business to make money, but trying to get as many bookings as possible right out of the gate could actually hurt you in the long run. It's best to test out your party rental services first (maybe with family and friends). That way you can see areas where you need to improve and areas that you can refine to make sure you are offering a premium service. You want to be as ready as possible when getting your first real clients because clients leave reviews online and they also can refer your business to their family and friends. 
START YOUR BUSINESS WITH COMMERCIAL GRADE EQUIPMENT
You may be tempted to start your business with the cheapest item available, but with party rental equipment.... you absolutely get what you pay for! It's just not worth it to buy a low quality tent or inflatable to have it malfunction on the job. This will not only lead to bad reviews, but unhappy customers that will not refer your business. We recommend buying commercial grade party rental equipment when starting your party rental business. You will thank yourself in the long run. 
START BY PAYING IN CASH
If possible, the best scenario to start your party rental business is to pay your first piece of equipment in cash. That means, don't use credit or take out a loan. This will allow you to see profits almost immediately. Not only will you feel thrilled to see how fast you can make your money back, but it will give you motivation to keep moving forward. We know this may not be possible for everyone, but by starting a savings plan in advance and only investing in one item to get started.... it is very possible to buy your first piece of party rental equipment in cash. 
START WITH FREE ADVERTISING
You may be thinking "How am I going to book my first clients?". We recommend starting your party rental business by taking advantage of all of the free advertising opportunities that exist on and offline. Some examples of free advertising could be posting on Facebook, Instagram and other social media platforms, handing out flyers in your local community and spreading the word by telling your family and friends. These are all FREE ways to spread the word and get your first party rental bookings. 
We hope you found this information useful when researching what you need to start your party rental business. Feel free to call and speak to one of our party rental experts and we will be happy to help you start your party rental business today!