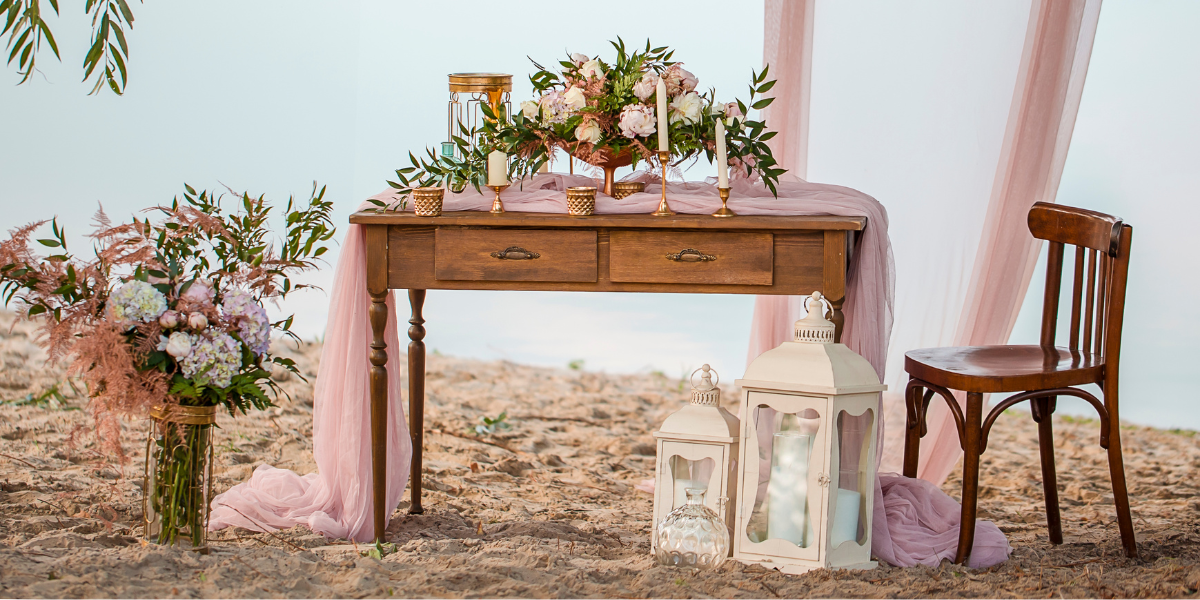 Wedding Rental Business: Top 5 Decor Ideas
Planning a wedding is an exciting and joyful experience for couples, and as a party rental business or event venue, you have the opportunity to contribute to their special day by providing stunning wedding decor.
In this blog post, we'll explore the top 5 wedding decor ideas that will add elegance and charm to any wedding celebration. We'll also discuss the equipment needed for each idea, the cost of the equipment, and the potential rental charges to help you make informed decisions for your party rental business. Let's dive in!

Rustic Chic:
The rustic chic theme has gained immense popularity in recent years. To create this charming ambiance, consider renting wooden farm tables, cross-back chairs, and mason jar centerpieces. The farm tables and cross-back chairs provide a rustic touch, while mason jars filled with fresh flowers add a whimsical element. You can charge around $30-$40 per farm table rental and $5-$10 per cross-back chair rental, depending on your location and market demand.

Glamorous Elegance:
For couples seeking a more glamorous and sophisticated ambiance, opt for glamorous decor elements such as crystal chandeliers, sequin table linens, and chiavari chairs. Crystal chandeliers add a touch of opulence, while sequin table linens bring shimmer and sparkle to the reception. Chiavari chairs are known for their elegance and versatility. The rental cost for a crystal chandelier can range from $100-$200, sequin table linens around $20-$30 each, and chiavari chairs approximately $5-$10 per chair.

Garden Romance:
Garden-themed weddings have a timeless appeal, offering a romantic and ethereal atmosphere. To achieve this look, consider renting white lattice arches, floral garlands, and garden-inspired furniture. The white lattice arch serves as a beautiful backdrop for the ceremony, while floral garlands add a touch of natural beauty. Additionally, garden-inspired furniture, such as wrought iron benches or vintage sofas, create cozy seating areas. The rental cost for a white lattice arch is typically around $50-$100, floral garlands $10-$20 per foot, and garden-inspired furniture can range from $50-$100 per piece.

Vintage Charm:
Vintage-themed weddings continue to captivate couples with their nostalgic and unique appeal. Enhance this theme by offering vintage decor items like antique china, vintage furniture, and old-fashioned typewriters. Antique china adds an elegant touch to the dining experience, while vintage furniture pieces provide cozy seating areas with a touch of nostalgia. Renting antique china sets can range from $5-$10 per place setting, vintage furniture can go for $50-$100 per piece, and typewriters may cost around $20-$50 per rental.

Modern Minimalism:
For couples who appreciate clean lines and simplicity, a modern minimalist theme is ideal. Offer sleek and contemporary decor items such as acrylic ghost chairs, geometric centerpieces, and modern lounge furniture. Acrylic ghost chairs bring a sense of modernity, while geometric centerpieces add a trendy flair. Modern lounge furniture creates stylish seating areas for guests to relax. The rental cost for acrylic ghost chairs can be around $10-$20 per chair, geometric centerpieces $15-$25 each, and modern lounge furniture can range from $100-$200 per piece.

By incorporating these top 5 wedding decor ideas into your party rental business or event venue, you can elevate the wedding experience for couples and create unforgettable memories. Remember to consider the equipment needed, such as farm tables, crystal chandeliers, vintage furniture, and more, and determine the cost of purchasing or renting these items. Additionally, research the market demand in your area and set competitive rental charges accordingly. With these ideas, your party rental business will thrive and become a go-to destination for couples seeking stunning wedding decor.

Remember, each wedding is unique, so offer a variety of decor options to cater to different themes and styles. Happy decorating and best of luck in growing your wedding decor rental business!