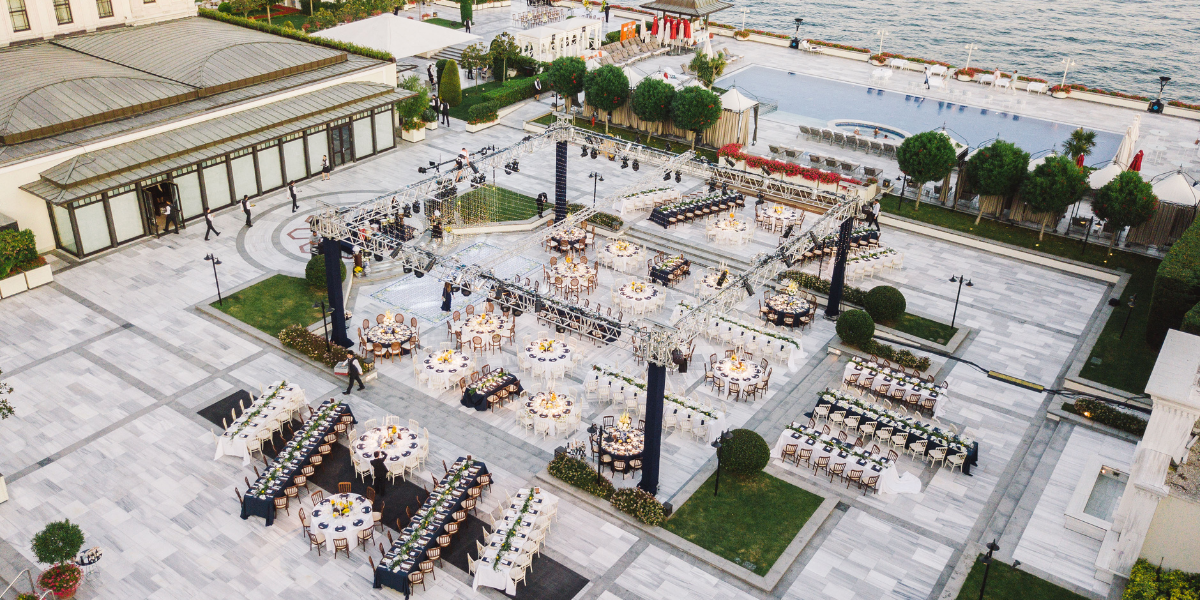 The Essential Steps to Launching a Venue Business
Listen to this blog post here
Are you someone who loves celebrating love? Do you dream of turning your passion for events into a thriving business? If so, starting a wedding and event venue business might be your calling. From saying "I do" to corporate soirées, this industry offers endless opportunities for entrepreneurs with a knack for creating memorable experiences. In this blog post, we'll walk you through the essential first steps, equipment requirements, pros and cons, and key considerations to know before diving into the world of wedding and event venues. Let's get this party started!
Defining Your Vision: Before setting out on your venue business journey, take some time to define your vision. Decide the type of events you want to host – weddings, corporate functions, or both? Consider your target market, location, and the unique features your venue will offer. Whether it's a rustic barn, a sleek modern space, or a garden oasis, your venue's aesthetic will attract clients who resonate with your style. Be clear about your mission and values to create a strong brand identity that sets you apart from the competition.

Securing the Perfect Location: Finding the right location is a critical aspect of starting a wedding and event venue business. Look for properties that align with your vision and have the necessary space and amenities to accommodate your target events. Consider factors like accessibility, parking facilities, nearby attractions, and local zoning regulations. Keep in mind that renovations or refurbishments might be needed to transform the space into a stunning event venue. Partnering with a real estate agent or seeking expert advice can streamline your search and ensure you make an informed decision.

Equipment Essentials: Equipping your venue with the necessary tools and amenities is vital for hosting successful events. Start with the basics, such as tables, chairs, linens, lighting, outdoor tents, and audiovisual equipment. Depending on your venue's theme and target market, you might also need additional items like dance floors, stage setups, and décor elements. Collaborate with local vendors or rental companies to source equipment while you establish your inventory. Remember, investing in high-quality, durable items will save you from future headaches and enhance the overall experience for your clients.

Pros and Cons: Like any business venture, starting a wedding and event venue has its pros and cons. On the positive side, you'll have the opportunity to be part of joyous celebrations, work in a dynamic industry, and build long-lasting relationships with clients. The revenue potential can be substantial, especially during peak wedding seasons. However, it's essential to consider the challenges. Venue maintenance, marketing costs, and the unpredictability of event bookings can be daunting. Additionally, competition can be fierce, requiring constant innovation and exceptional customer service to stand out. Understanding and preparing for these pros and cons will help you navigate the journey with confidence.
Key Considerations and Tips
Before launching your wedding and event venue business, here are some key considerations and tips to keep in mind:
Insurance and liability: Protect your business and clients by obtaining comprehensive insurance coverage that includes liability and property damage.

Permits and licenses: Research and obtain all necessary permits and licenses required by your local government and regulatory bodies.

Marketing and networking: Develop a strong online presence through a user-friendly website, social media channels, and collaborations with wedding planners and event vendors. Attend industry trade shows and local networking events to expand your professional connections.

Pricing and contracts: Establish transparent pricing structures and create solid contracts that outline terms and conditions for clients. Seek legal advice to ensure your contracts are comprehensive and legally binding.

Staffing and support: Determine the level of staffing and support you'll need to effectively manage your venue. This may include hiring event coordinators, maintenance personnel, and security staff. Building a reliable team is crucial for delivering exceptional customer service and ensuring smooth operations during events.

Building relationships: Foster positive relationships with local vendors, such as caterers, photographers, and florists. Creating a network of trusted professionals will not only enhance your clients' experience but also generate referrals and collaborative opportunities.

Flexibility and adaptability: The event industry is known for its ever-changing nature. Stay adaptable and be prepared to accommodate last-minute requests, changes, and unforeseen circumstances. This flexibility will set you apart and earn you a reputation for going above and beyond for your clients.

Guest experience: Pay attention to the little details that can make a big difference in the guest experience. Provide ample parking, accessible facilities, and exceptional customer service. Consider offering additional amenities such as bridal suites, on-site accommodations, or catering services to enhance the overall experience for your clients and their guests.
Starting a wedding and event venue business is an exciting venture that allows you to be a part of life's most special moments. By defining your vision, securing the perfect location, investing in essential equipment, and considering the pros and cons, you'll be well on your way to creating a successful venue. Remember to prioritize exceptional customer service, build strong relationships within the industry, and remain flexible in the face of challenges. So, raise a glass to your new endeavor and get ready to create unforgettable memories for countless celebrations to come!