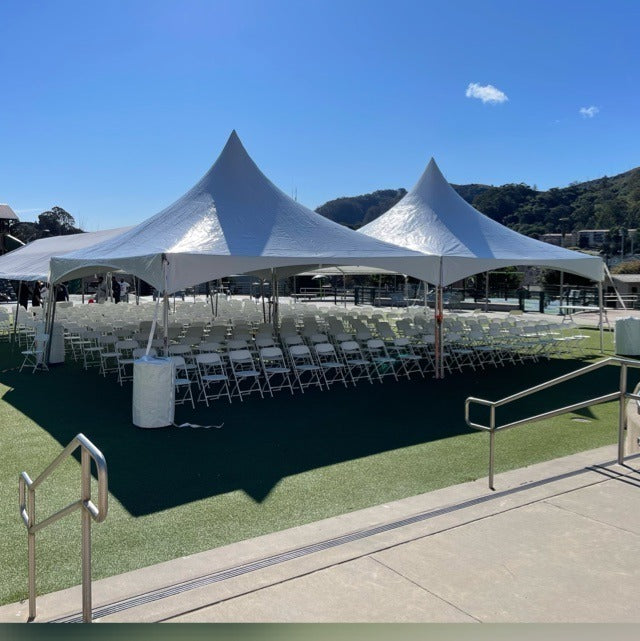 The Difference Between A Frame Tent and Pole Tent
Have you just started researching commercial tents to start your party and event rental business? Are you stuck trying to understand the difference between a frame tent and a pole tent? 
We are here to help you! This blog will fill you in on the main differences between these two types of commercial tents. But, don't forget! You can always give us a call and one of our friendly product specialists will be happy to help you get the best tent to start and grow your business. 
Now, let's talk tents...
Both of these tents require a different setup, parts and time commitment. 
Commercial Frame Tent
The main visual difference is that a Frame Tent does not have a center pole. This frees up more space and allows you to fit more guests. It also leaves the center of the tent unobstructed which would be a better fit if you have an event with a dance floor. 
Frame Tents also have the ability to be set up on both hard and soft surfaces. You can use the tent to set up for a driveway party on concrete or a backyard event on grass. The setup versatility makes this tent a very popular choice. 
Frame Tents are a great fit for weddings, medical drive-thru's, and driveway or parking lot events. They can easily be set up on hard surfaces using a weighted system such as concrete blocks. 
Pole Tents

The main visual difference you will see with the pole tent are the center poles going through the middle of the tent. When designing the layout of your event, you will need to keep these center poles in mind. 
Pole Tents are designed only to be setup on grass or soft surfaces where you can stake into the ground. This tent exclusively uses stakes and ratchet straps as the anchoring system. 
Pole Tents are available in a variety of larger sizes that are perfect for large parties and events. 
From backyard parties to family reunions to events exceeding 500 guests, Pole Tents are offered in sizes that can cater to almost any size event. 
When deciding which tent is best for you, ask yourself a couple of questions. What kind of clients will you be catering to? What is the average headcount of events and parties in your area? What are your potential clients requesting? What kind of surface will you be setting the tents up on?