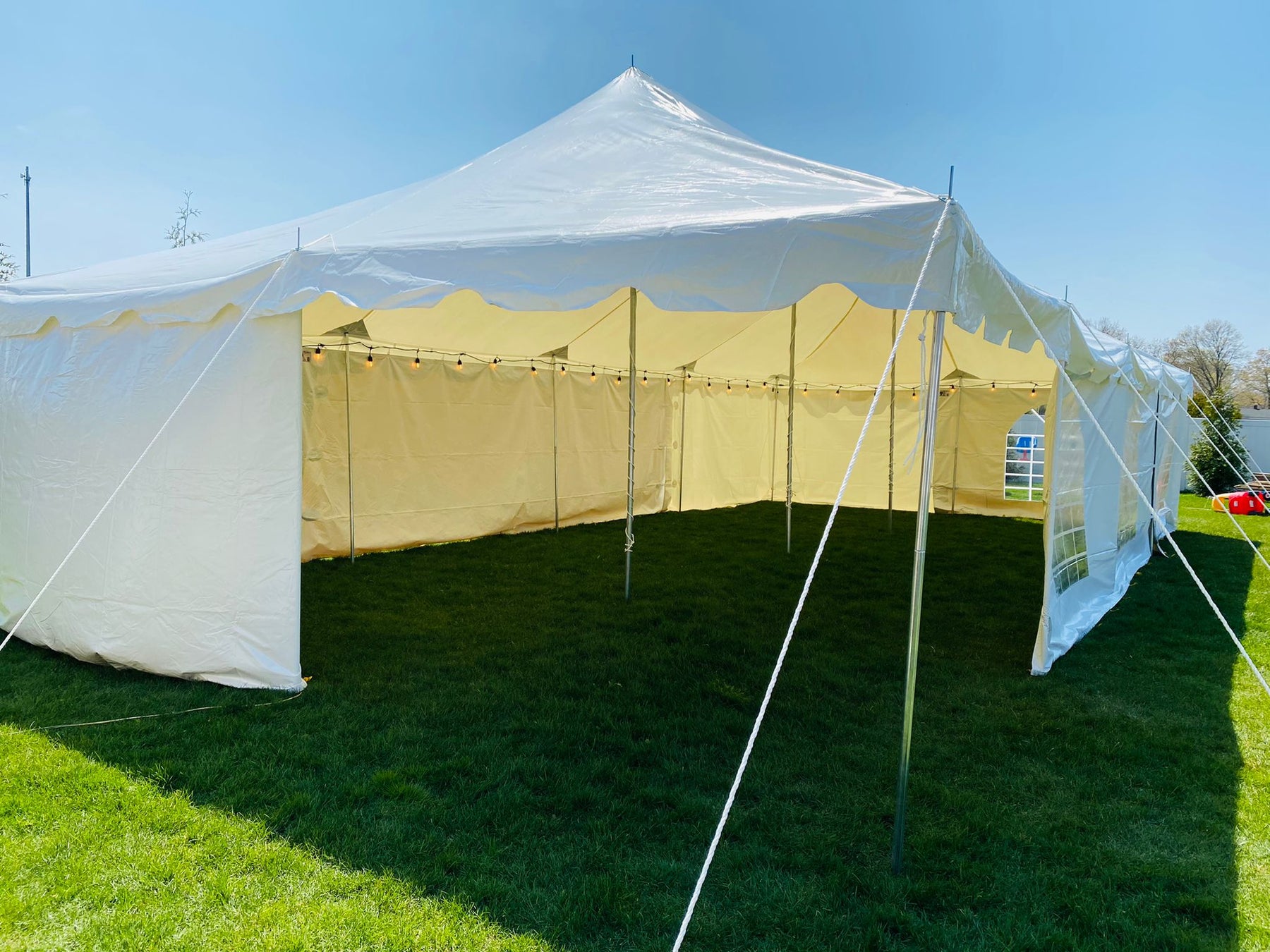 Tent Sidewalls | Everything You Need To Know
Are you buying a commercial tent and can't decide if you should add on sidewalls? What are tent sidewalls good for anyways? 
Here at Beyond Tent, we suggest the majority of our customers to add on sidewalls to their commercial tent purchase. Although, there is a small percentage of customers who may not need sidewalls depending on their intended use, for the majority sidewalls are a must-have!
This blog will cover everything you need to know about sidewalls for your commercial grade party and event tent. 
Sidewalls are vinyl sections that can be attached and removed from the perimeter of your commercial grade tent. They can act as dividers and ultimately protect your guests from inclement weather, sun while keeping an event private and intimate. 
Not all sidewalls are created equal. 
When it comes to sidewalls, you get what you pay for. The lower the price, the cheaper and thinner the vinyl. It's important to always find out the number of ounces when it comes to PVC vinyl and sidewalls. The economical sidewalls are usually translucent and allow sun and light to pass right through. Although this may work for some, this is pretty ineffective for most venues and event rental companies by not offering any shade or privacy. 
Beyond Tent almost exclusively works with 18 oz. PVC blockout vinyl sidewalls. Not only is this commercial grade, but it is completely blockout. There will be no sun or light that can pass through these walls offering complete protection and privacy for guests. Furthermore, 18 oz. sidewalls are less likely to crack under cooler temperatures. As a guideline, we suggest our customers to take their sidewalls inside when outside temperatures drop below freezing. Cracking of the vinyl can happen when temperatures are too cold. The heavier duty vinyl your sidewalls are, the less likely any of this will happen. 
While operating your party rental business, customers may not know they need sidewalls when renting their tent. This will be your job to upsell them into sidewalls which is actually a product that will make their event better. Since your customer depends on you to be the product and event expert, sidewalls will make their party even better by offering protection, privacy and a more polished look. Your customers will thank you!
Why Should I Add Sidewalls To My Tent Purchase? 
We are glad you asked! Sidewalls are one of those products you might not need now, but eventually you will. If you see yourself in the event and party business for the longterm, sidewalls will become necessary for your commercial event tents. The great thing is you can start out with one kit and grow your inventory as your business grows. Most sidewalls can be used on all different types of tents. When your customers start requesting sidewalls for their events, you will be glad you added them on to your commercial party tent purchase the first time around!