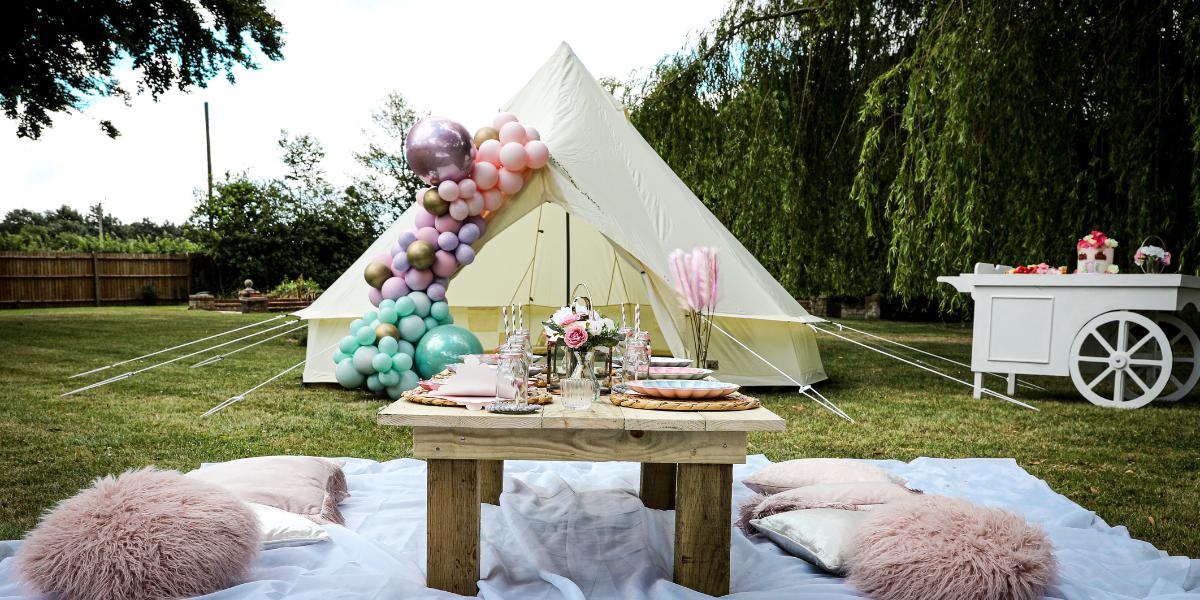 Starting a Bell Tent Party Rental Business
Are you looking to start a bell tent party rental business? With their charm and versatility, bell tents have become a popular choice for outdoor events. Whether it's weddings, glamping getaways, or children's sleepovers, these canvas bell tents can add a touch of magic to any occasion.
In this blog post, we will provide you with essential information on shopping for a commercial bell tent, share creative party ideas, offer tips on marketing and promotion, and give you an idea of the potential earnings. Let's dive in and explore the exciting world of bell tent rentals!
Shopping for a Commercial Bell Tent
When choosing a commercial bell tent, quality and durability are key. Look for a canvas bell tent specifically designed for commercial use, as it will withstand frequent setups and takedowns. Consider factors like size, ease of assembly, waterproofing, and ventilation to ensure a comfortable and safe experience for your customers. Research reputable suppliers and compare prices to find the best fit for your business.
Different Ideas for Bell Tent Parties
Bell tents can be transformed into unique and captivating spaces for various events. Here are some creative ideas to inspire you:
Glamping Retreats: Offer luxurious camping experiences with comfortable furnishings, cozy bedding, and atmospheric lighting.
Romantic Weddings: Create an intimate setting for outdoor weddings, incorporating rustic decorations, floral arrangements, and elegant touches.
Kids' Adventure Parties: Host unforgettable sleepovers and birthday parties with themed decor, games, and entertainment options.
Wellness Retreats: Collaborate with wellness experts to provide rejuvenating retreats with yoga sessions, meditation workshops, and spa treatments.
Marketing and Promoting Your Bell Tent Party Rental Business
To succeed in the competitive party rental market, effective marketing strategies are essential. Consider the following tips:
Build a Professional Website: Create a user-friendly website that showcases your services, includes high-quality visuals, and offers easy online booking.
Social Media Presence: Utilize platforms like Instagram, Facebook, and Pinterest to showcase your bell tents, engage with your audience, and share customer testimonials.
Collaborate with Event Planners: Network with event planners, wedding coordinators, and local businesses to establish partnerships and gain referrals.
Offer Special Packages: Attract customers with promotions, discounts, or bundled deals for certain occasions or seasonal events.
Participate in Local Events: Set up displays at community events, trade shows, and expos to showcase your bell tents and connect with potential customers.
Potential Earnings from Bell Tent Rentals
Earnings from bell tent rentals can vary depending on factors such as location, demand, and the number of bookings you receive. The average price to rent a bell tent for a party can range from $150 to $500 per night, depending on the size and level of customization. To give you an idea of the market, here are the average prices for bell tent rentals in five major US cities:
New York City: $250-$400 per night
Los Angeles: $200-$350 per night
Chicago: $200-$350 per night
Houston: $150-$300 per night
Miami: $250-$450 per night
These prices are approximate and can vary based on factors such as competition, location, and additional services provided.
Starting a bell tent party rental business can be an exciting and rewarding venture. By carefully selecting a commercial bell tent, exploring creative party ideas, implementing effective marketing strategies, and delivering exceptional customer service, you can build a successful business in the event rental industry. Keep in mind that success takes time and dedication. With passion, innovation, and attention to detail, your bell tent rental business can create unforgettable experiences for customers while generating a healthy income.
So, are you ready to embark on this exciting journey and become a part of the booming bell tent rental business? Embrace the charm of canvas bell tents and bring joy to countless celebrations and events. Start planning, set up your business, and get ready to create memories that will last a lifetime!