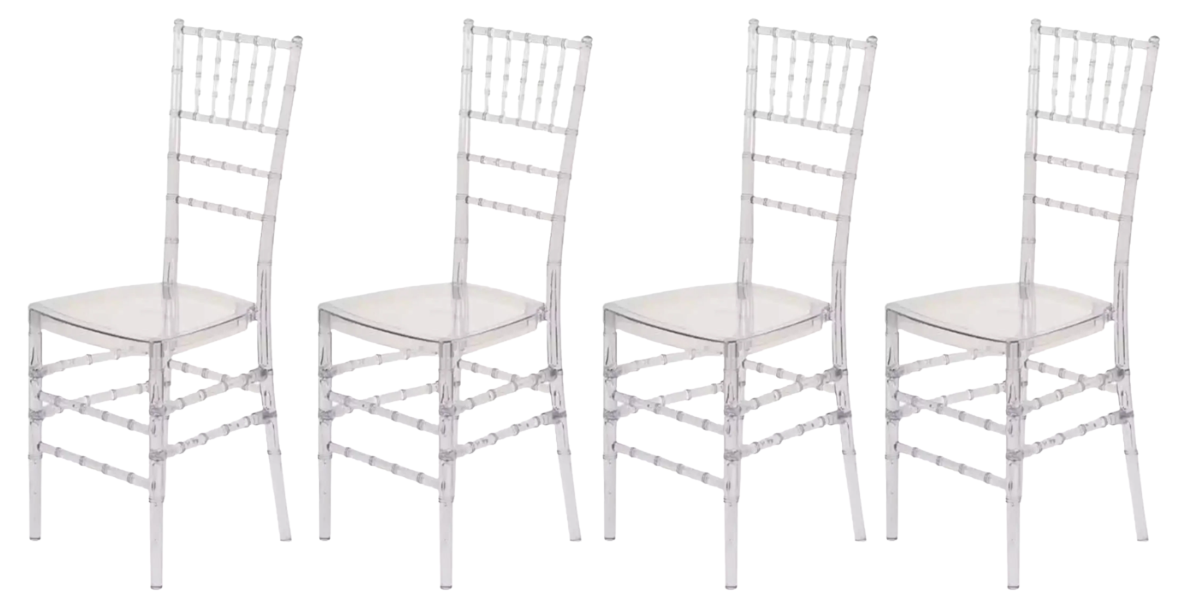 Not All Crystal Chiavari Chairs Are Created Equal
Are you interested in crystal chiavari chairs for your event venue or party rental business? Are you overwhelmed by the wide range in prices for crystal chiavari chairs? Are you unsure which crystal chiavari chairs are durable, long lasting and good quality for your business? 
We are here to rescue you! Maybe you've already bought crystal chiavari chairs and you were unhappy with the quality, size or look of the chair you received. Maybe you even received used, worn or marked crystal chiavari chairs thinking you were getting brand new ones! This usually happens in the case of seeing a price for crystal chiavari chairs that seems "too good to be true". Usually, it is too good to be true! It's important to note not all crystal chiavari chairs are created equal. This is an important investment for your business and it's in your best interest to buy right the first time or it could just cost you more money down the road. We recommend buying your equipment from a company that has experience working specifically with party rental businesses and event venues as they can best advise on the type of equipment needed for your business. For example, you could be looking at a crystal chiavari chair that is used more for decor or a prop than one to actually support the weight of a human being without knowing it!
What are the dangers of buying cheap crystal chiavari chairs? Just to name a few...
Easily chip and scratch
Frame can crack
The chair supports a weight capacity less than advertised
The chair breaks when a guest is sitting on it
Cheap chairs can lead to bad customer reviews for your business
What are red flags when shopping around for crystal chiavari chairs? 
You can't get a knowledgable representative over the phone to answer product questions
The product listing mentions that the chairs may arrive damaged or with scratches and they are not returnable
You are not able to order a sample
There is a long lead time or you are not told at all when exactly the chairs will ship
You are not able to find out the material the chair is made of
They are not commercial or designed for party rental companies or event venues
Let's take a look at a crystal chiavari chair designed for events: 
The Clear Resin Chiavari chair is quickly becoming the hottest chair in the event industry. Resin chiavari chairs are a great alternative to traditional wood chiavari chairs for those concerned with getting an extra long life and return on their investment. The clear model ensures that it will stand out from the rest of your chiavari chair inventory and from your competitors.

They come fully assembled and can stack 7-9 high to maximize warehouse space and make for easy transport. The bottom rungs have built-in pads to protect the chair stacked underneath. They are moved easily by hand or with our selection of chiavari dollies.

The Clear Resin Chiavari Chair will be an excellent and maybe even an eccentric addition to any party rental inventory, hotel banquet hall or wedding event venue.

Features
Stacks 7-9 High
Ships fully assembled
High density resin for exceptionally durable chair
1000 lb static weight capacity
Won't loosen or wobble
Anti-static, UV treated finish
Give us a call today to get your quote for crystal chiavair chairs. We have price points to meet all budgets and would be happy to assist you in finding out if crystal chiavari chairs are right for your party rental business or event venue.