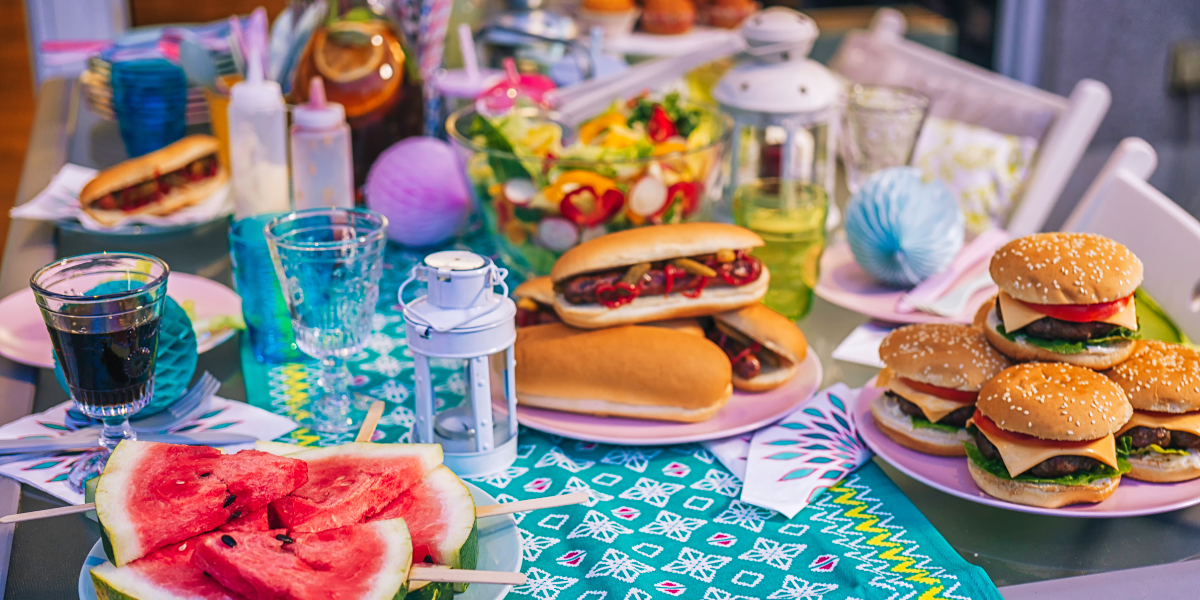 Must-Have Summer Outdoor Party Themes
Summer is the season of vibrant colors, warm sunshine, and joyful gatherings. It's the perfect time to host outdoor parties and celebrate life's special moments.
As a party rental business owner, it's important to stay updated on the latest party trends and be prepared to fulfill your customers' requests. In this blog post, we'll delve into some popular summer outdoor party themes and discuss the essential equipment and decor you'll need to create these memorable experiences for your customers.
1. Tropical Paradise:
Transform your outdoor venue into a
tropical paradise
with a Hawaiian-themed party. Decorate the space with
palm tree bounce houses
, tiki torches,
bamboo furniture
, and vibrant floral arrangements. Set up a tiki bar with colorful cocktails, fresh fruit, and tropical garnishes. Offer your customers a variety of options, such as grass skirts, leis, and floral headbands for their guests to wear. Don't forget to provide outdoor heaters for cooler evenings and ensure you have enough beach chairs and tables to accommodate all guests.
2. Rustic Garden Party:
Capture the essence of nature with a rustic garden party theme. Create a charming atmosphere with burlap table runners, mason jar centerpieces filled with wildflowers, and vintage-style
wooden furniture
. Opt for
string lights
or lanterns to illuminate the space and enhance the magical ambiance. For entertainment, consider offering garden games like croquet or horseshoes. Your inventory should include
wooden picnic tables
, rustic tableware, and decorative garden props to complete the look.
3. Beach Bonanza:
Bring the beach to your customer's backyard with a beach bonanza theme. Set up a sandy area with colorful beach
umbrellas
, lounge chairs, and palm trees. Offer beach games like volleyball or Frisbee to keep guests entertained. Enhance the coastal vibes with nautical-themed decorations such as anchors, buoys, and seashells. Don't forget to provide
coolers
, ice machines, and beach towels to ensure your customers have everything they need for a fun-filled day at their beach-themed party.
4. Carnival Extravaganza:
Transform your client's outdoor space into a lively
carnival
with a wide array of
games
and
attractions
. Create a festive atmosphere with vibrant banners, colorful balloons, and circus-themed decor. Set up classic carnival games like ring toss, bean bag toss, or a dunk tank. Offer
concession
stands with
popcorn machines
,
cotton candy makers
, and
snow cone machines
. Make sure you have enough
tables
,
chairs
, and
tents
to accommodate all the entertainment and food stations.
5. Movie Night Under the Stars:
Host a unique outdoor movie night experience for your customers. Set up a
large inflatable screen
, a projector, and comfortable seating such as bean bags or folding chairs. Decorate the area with
fairy lights
, lanterns, and cozy blankets for a cozy atmosphere. Offer
popcorn machines
, candy bars, and refreshing beverages to create a true cinema experience. Make sure your audio equipment is in top-notch condition, providing high-quality sound for a memorable movie night.
As a party rental business owner, staying ahead of popular summer outdoor party themes is crucial to meet your customers' expectations. By offering a wide range of equipment and decor tailored to these themes, you can create unforgettable experiences for partygoers. Whether it's a tropical paradise, rustic garden party, beach bonanza, carnival extravaganza, or movie night under the stars, your inventory should include all the essentials to bring these themes to life. Embrace the creativity, be prepared, and make this summer a season of remarkable celebrations!
Remember, party themes are just the beginning. Keep exploring new trends and listening to your customers' requests to ensure your party rental business remains a top choice for hosting memorable outdoor events throughout the summer.