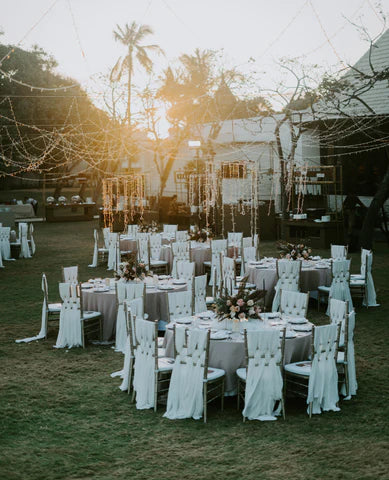 Best Rental Chairs For Weddings
Listen to this blog post here
Do you own a wedding venue or event rental business?
Are you deciding which rental chairs you want to invest in?
We are going to review the 4 most popular rental chairs for weddings in efforts to help you decide which will be the best for your event venue or party rental business.
If you take a quick peek around the internet or Pinterest, you will quickly see the same few chairs when looking at photos of wedding design inspiration. 
Chiavari Chairs
If you've just started your research, you will see the Chiavari chair in almost every high end luxury wedding. Hands down, this is the most popular wedding rental chair and for good reason! It's extremely versatile and can be dressed up in a variety of ways. More importantly for rental operators, they are lightweight and easy to maintain.
At Beyond Tent, we have a variety of Chiavari chairs available in stock and ready to ship. These chairs come in a variety of colors such as gold, silver, crystal and white to name a few.
When shopping for Chiavari chairs, it's important to pay attention to the dimensions and materials. Not all chairs are created equal. What is the size of the actual seat, the height and the legs? Is the chair made of wood or resin? These details will directly impact the price and performance.
We recommend resin as it is very easy to maintain and more lightweight. This is the preferred material for rental operators. There is nothing worse than having to transport around stacks of heavy chairs!
Ghost Chairs
 The ghost chair is a sturdy clear chair that pairs perfectly for luxurious and elegant gatherings. It has the ability to combine with any color palette and give off the illusion of space and dimension. 
When shopping for Ghost Chairs, you will see a variety of styles and sizes. Just like with the Chiavari chair, not all chairs are created equal and it's important to look at the dimensions and materials. Further details to investigate will be the weight capacity of each chair and stackability. Beyond Tent has a variety of Ghost Chairs that have up to 700 lbs. weight capacity and can stack up to 4 chairs high. 
Cross Back Chairs
The cross back chair is a favorite for outdoor rustic weddings. From the Florida Keys to Farm Weddings, cross back chairs can meet the design needs of any outdoor wedding or event. 
Beyond Tent has a variety of colors available, as well as cross back chairs available in resin and wood. The most important thing to consider when deciding between resin and wood is how often you will be moving or transporting the chairs. 
What we love most about cross back chairs is that they are easy to clean and are UV resistant! Perfect for outdoor weddings. These commercial grade chairs are built to withstand years of use and if properly maintained, they can last many years in your event rental inventory without replacement. 
Folding Resin Chairs
The Resin Folding Chair is a tried and true chair product that is reliable for weddings and events. The highlight of this chair is that it is foldable meaning easy transportation and storage. Available in Black, White and Mahogany, the resin folding chair can complement the design of any event. 
This chair is great if you are just starting your business as it is the most economical option available on the market. 
Which wedding rental chairs are your favorite? Chiavari, Cross Back, Resin Folding or Ghost? Check out Beyond Tent's wedding rental chairs here and get your order in today.