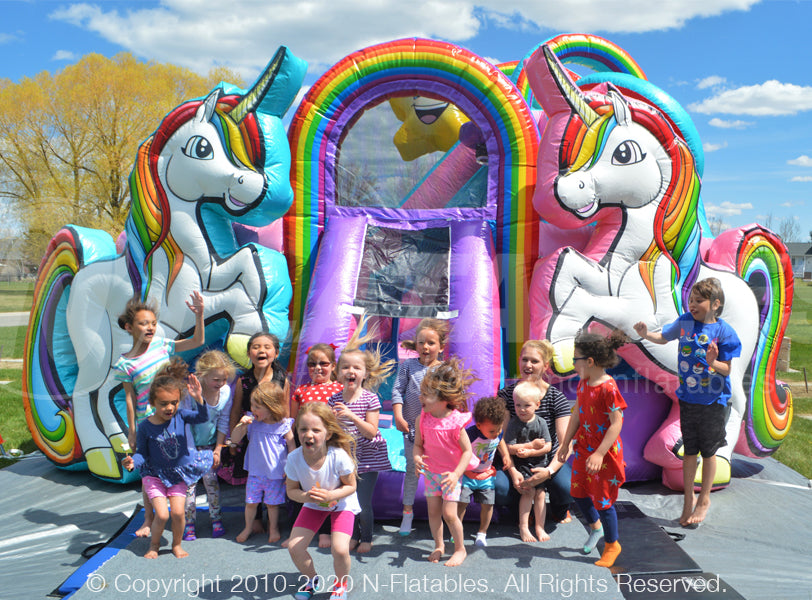 How To Maintain Your Commercial Inflatable
Listen to this blog post here
As the owner of a venue or bounce house business, your inflatables are your most prized possession! 
To get a full range of products needed to maintain your inflatables and keep them looking good over many years, feel free to give us a call today. 
In this blog, we will cover what is necessary to make your commercial inflatable last for many years to come. 
Use A Tarp or Ground Cover
When setting up your inflatable, you are going to lay it out on a surface as you prepare to inflate it. Be sure to use a tarp or ground cover to place underneath the inflatable before inflating it. This will protect the vinyl from any dirt and keep the inflatable looking clean and brand new. 
Allow Your Inflatable To Fully Dry
Before storing your inflatable, allow it to fully dry. This will prevent any mildew or mold that could potentially grow on the vinyl when prematurely storing a wet inflatable. 
Keep a Patch Kit Handy
Kids are jumping away on your inflatable, this means you have customers! But, it can also mean small tears in the inflatable. This is completely normal when renting bounce houses and inflatables. Tears will happen especially from the friction where the inflatable meets the ground. Always keep a patch kit on hand so you can easily repair these on site if needed. 
Properly Store Your Inflatable
Be sure to store your inflatable in a protective bag, off of the ground (if possible) and in a dry place. The temperature where you store it should not be under 40 degree fahrenheit. Any cold temperatures could potentially crack the vinyl of your inflatable. 
Regularly Clean The Vinyl
Always keep neutral, non-abrasive cleaners on hand to polish and clean your vinyl. Your inflatables will get dirty when out on the job site. From the transport to jumping kids, it's important to keep cleaners on hand so you can immediately clean any dirt or stains from the vinyl. 
Cleaning the vinyl of your inflatables with a pressure washer is also a great option. It is important to note you must be mindful of any seams when pressure washing, but this is a method that is extremely effective and fast. Beyond inflatables, you could also clean tents, tables, chairs, other event furniture and rental equipment with a pressure washer making this a great investment for your business!
Use The Right Blower
Using a blower that is too powerful for your inflatable could potentially damage or rip the seams. Always make sure you are using the blower that came with your inflatable. If you are unsure, give us a call and we would be happy to assist you. 
Final Thoughts
For any bounce house business, your inflatables are the most important part of your business next to your reputation. Be sure to show up to job sites with sparkling clean inflatables that look brand new. This will impress any client and generate referrals to help grow your business.