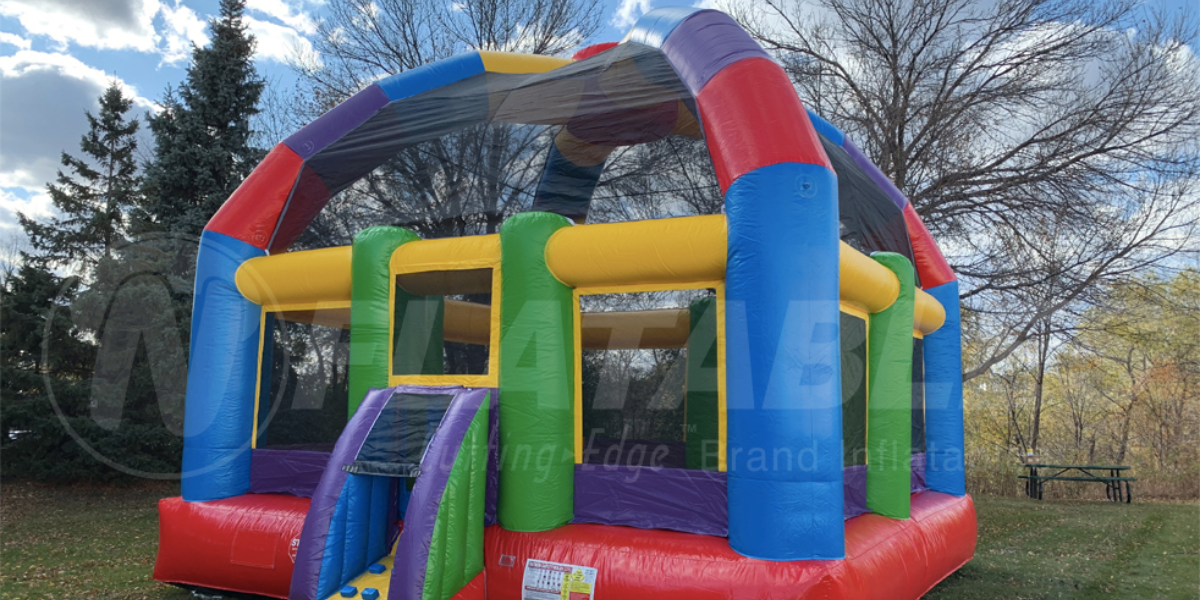 How Much Does A Bounce House Cost?
Are you shopping around for your first commercial bounce house and overwhelmed by the number of options you see and the varying prices? 
Beyond Tent is your inflatable expert when it comes to getting the right commercial equipment for your party rental business or event venue. Keep reading if you want to find out how much a bounce house costs. 
When it comes to inflatables, you get what you pay for! You will see prices all across the board and we are going to go over the main factors that influence these prices. To give you a rough idea, the price range for inflatables can be anywhere from $400-$4,000. 
VINYL OR MATERIAL USED
Be sure to find out what the inflatable is made out of. Commercial grade inflatables will usually be made out of anywhere from 15 oz. PVC vinyl to 18 oz. PVC vinyl is the most durable and commonly used material to make strong, long-lasting commercial grade inflatables. Inflatables prices on the lower end may be made of something totally different than PVC vinyl. The material used directly effects the longevity and durability of the product. 
SEAMS & STITCH
Inflatables have seams. When the seams are weak, there can be holes! Holes cause your inflatable to not inflate correctly or inflate at all- making it completely useless. You will find some inflatable units that are single, double or triple stitched. 
DESIGN
Bounce houses can come in many different styles. Combo bounce houses can have a water slide attached on the side, an obstacle course or separate play areas. This will directly influence the price. The more play areas, the more expensive the unit becomes. With more play areas, comes the use of more vinyl which directly translates to a heavier unit. The heavier the unit, the more you need to properly plan the transportation of the unit to and from the job site. 
WET & DRY
Once you spend some time shopping around, you will see that some commercial inflatables are dry only OR wet & dry. What does this mean? This simply means that you are able to use the unit without water or you are able to use the unit in both wet and dry conditions. The ability to use the unit as wet and dry is more attractive as you can rent out the inflatable in a variety of scenarios. 
COMMERCIAL VS. SEMI-COMMERCIAL
Commercial units will be more expensive than semi-commercial inflatables or even residential units. Commercial units are specifically designed to be used in the party rental industry and take into account the heavy use and constant transportation of these units. They are made with the most premium vinyl, securely stitched and come with a longer warranty. Semi-commercial units are a great affordable option for those just getting started in the business and highly recommended if you are brand new to inflatables. Residential units will be your most budget option as they are the most light weight and come with a short warranty. These are usually not recommended for the rental business because they are not built to withstand heavy use and constant transportation. 
With our extensive catalog of inflatables at Beyond Tent, we have commercial and semi-commercial inflatables at every price point. If you are just getting started in the bounce house business, we have something for you! If you are a seasoned business owner with tons of inflatables, we also have something for you! Give Beyond Tent a call today to help you get the right commercial grade inflatable or bounce house for your party rental business or event venue.