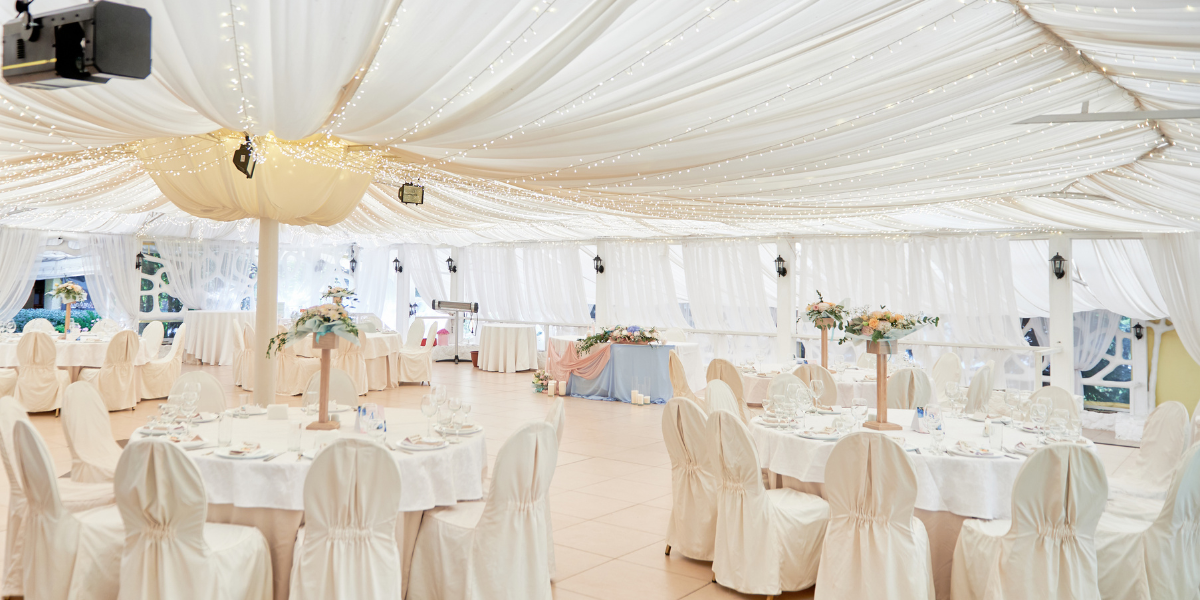 How Many Round Tables Fit Under A Tent?
Listen to this blog post here
Greetings, fellow party rental business owners and event venue enthusiasts! Planning an outdoor event is always exciting, but one common question that often arises is: how many round tables can fit comfortably under an outdoor event tent? Well, worry not! Today, we're diving into this topic headfirst, exploring the most popular tent sizes and the ideal round table configurations to ensure your guests are not only comfortable but also having a blast.
20x20 Tent:
This cozy tent size is a favorite for intimate gatherings. The most common table configurations include placing 4 to 6 round tables under the 20x20 tent. When using 60-inch round tables, you can comfortably seat around 24 to 36 guests. Perfect for small weddings, family reunions, or intimate birthday parties, this setup fosters an atmosphere of togetherness and camaraderie.
20x40 Tent:
Stepping up the game, the 20x40 tent is a versatile choice. Under this spacious canopy, you can accommodate 8 to 10 round tables comfortably. Opting for 60-inch round tables can seat approximately 48 to 60 guests. This configuration is ideal for medium-sized weddings, corporate events, or community fundraisers. The ample space ensures guests have room to mingle while enjoying their meals.
30x40 Tent:
Moving on to a slightly larger scale, the 30x40 tent offers even more possibilities. With this size, you can arrange 10 to 12 round tables, each typically measuring 60 inches in diameter. This setup can comfortably seat around 60 to 72 guests. The 30x40 tent is perfect for grand birthday celebrations, engagement parties, or medium-sized conferences. It provides a cozy yet spacious environment, encouraging conversations and creating memorable moments.
60x60 Tent:
For the grandest of events, the 60x60 tent is a showstopper. This colossal space allows for the arrangement of 20 to 24 round tables, accommodating around 120 to 144 guests. Imagine the possibilities for large weddings, extravagant galas, or major corporate functions! With 60-inch round tables beneath this tent, your guests will have plenty of space to dine, socialize, and dance the night away.
Tips for Tent Rental Business Owners and Event Venues:
Versatility is Key: Investing in a variety of table sizes can be a game-changer. While 60-inch round tables are popular, having 48-inch rounds or even rectangular tables in your inventory can help you accommodate different guest counts and preferences.

Create a Comfortable Atmosphere: Consider not only the number of tables but also the space between them. Guests should be able to move freely without feeling cramped. A well-spaced setup enhances the overall experience.

Stay Connected with Clients: Listen to your clients' needs and preferences. Some events might require a dance floor, a stage, or additional decor elements. Understanding the event's purpose and theme can guide you in arranging the perfect layout.

Regularly Update Your Inventory: As trends evolve, so do the preferences of clients. Stay updated with the latest table designs, chair styles, and tent accessories to offer a wide array of choices to your clients.
Finding the right balance between tent size and table configurations is crucial for any successful outdoor event. As tent rental businesses and event venues, your adaptability and creativity play a pivotal role in creating memorable experiences for your clients. By understanding the nuances of each tent size and catering to diverse client needs, you can elevate your services and make every event truly special.
Remember, a happy guest is a returning customer, and a satisfied client is your best advertisement. So, go ahead, experiment with different setups, and let your creativity shine. Here's to creating magical moments under the open sky – one event at a time!