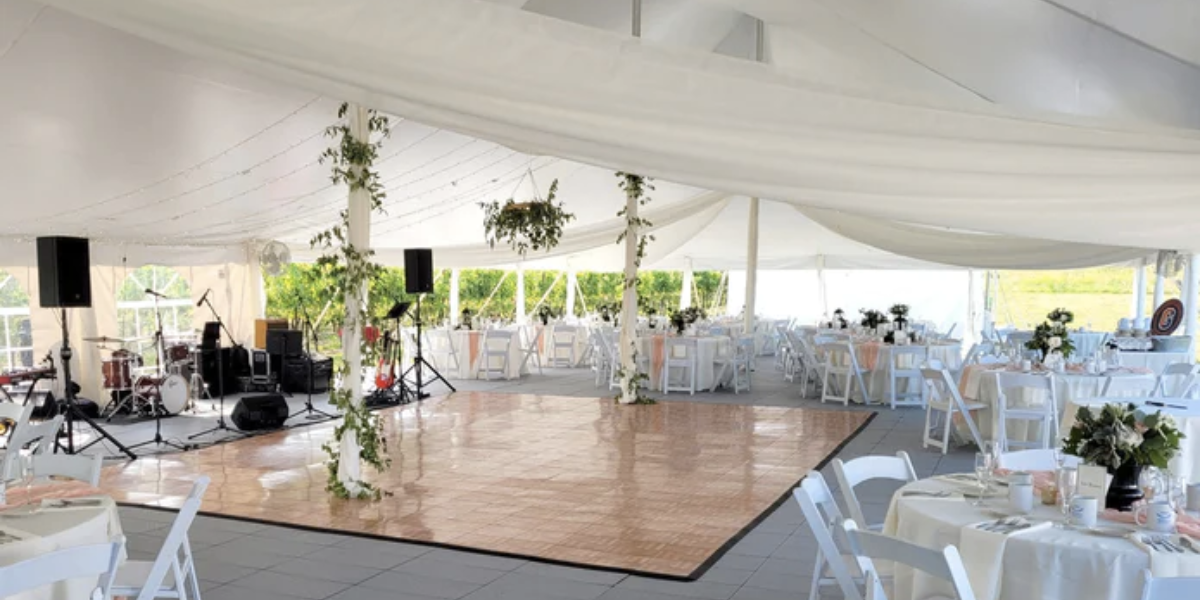 Do I Need A Subfloor For My Portable Dance Floor?
Listen to this blog post here
Have you purchased a portable dance floor and are struggling to set it up on a variety of surfaces? Are you shopping around for a portable dance floor for your party rental business or event venue and unsure if you need a subfloor to go underneath your dance floor? Are you unsure what types of surfaces you can safely and confidently set up your portable dance floor? 
Keep reading this blog if you are interested in learning more about portable dance floors and subfloors needed for certain types of dance floors. Also, stay with us until the end of this blog if you want to set up your portable dance floor on grass, sand or an uneven surface. 
First, what kind of dance floor do you have or what kind of dance floor are you interested in purchasing? 
Here at Beyond Tent, we offer a few different types of dance floors. The main difference between portable dance floors you will see on the market will be dance floors that require a subfloor and dance floors that don't require a subfloor/already have a subfloor built in. 
Why is a subfloor important? 
This all comes down to the type of surface you would like to set up your dance floor on. If your events are mostly indoors and your flooring is even and hard, you most likely will not need a subfloor. If you plan to set up your dance floor underneath a tent on top of an uneven grass surface, you will definitely need a subfloor. 
Want to see what happens when you don't use a subfloor on an uneven surface like grass to setup your dance floor? Check it out below: 
Just by looking at these photos, you can see how this could become a potentially dangerous situation. Not only will the dance floor tiles get ruined from improper use and setup, but guests could easily trip while on the dance floor. 
Know Your Subfloor Options Before Buying A Portable Dance Floor
Depending on your business, we may recommend purchasing a lighter weight dance floor with an optional subfloor that can also act as flooring for underneath tents or we may recommend a more heavy duty commercial grade dance floor for ballrooms, dance halls and event venues. If you are unsure which dance floor is right for your business, that is what we are here for. Give us a call or send us an email and we will be happy to advise you. 
Dance Floors are an investment you will be considering pretty early on whether you are a party rental business or event venue. Customers will be asking for this product and you will be happy to provide them when you realize how fast you can make a return on your investment!