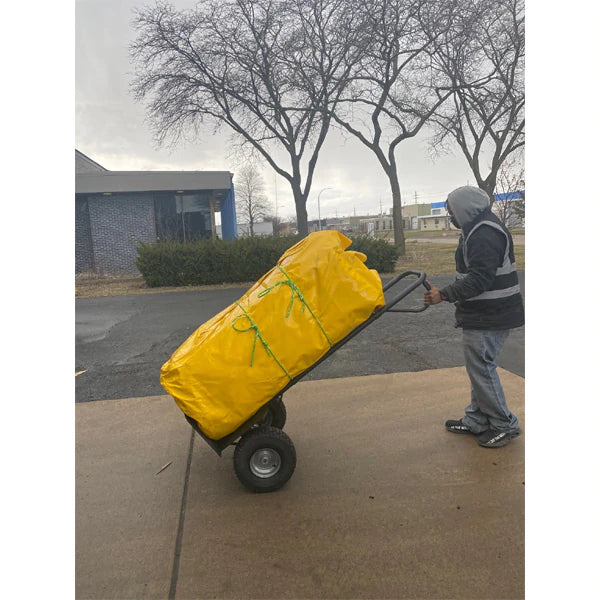 Do I Need A Dolly For My Inflatable or Tent?
Listen to this blog post here
Are you in the market for your first commercial inflatable or tent and unsure if you need a dolly? 
Here at Beyond Tent, we like to set our customers up for success when starting their very own party and event rental business. The dolly is one of those must-have add ons when buying your first commercial inflatable or tent. You may not think you need it or your budget doesn't allow for it, but when you get your first job you will quickly realize the importance of having a dolly. 
Inflatables and Tents Are Heavy!
This may be one of the most overlooked facts when it comes to starting up your party and event rental business. Beneath all of the excitement of getting your new equipment like inflatables, bounce houses, tents, tables and chairs.... you might forget they actually weigh something! Along with that, you are the one who has to move and transport them!
Introducing The Dolly...
Beyond Tent sells a variety of dollies that can help you safely transport your tents, inflatables and other party and event equipment. The fastest way to dislike working in the party and event business is to arrive to an event site with no dollies or movers for all of your equipment. 
Just imagine unloading ONE BY ONE Chiavari Chairs, large tents or wood banquet tables. Imaging carrying your tent top and all of the framing all the way from your vehicle to the set up site! We'd say this is what could make someone quit on day one. 
Not quite sure which dolly to get? 
Beyond Tent sells a variety of dollies and movers that are specific to tents, inflatables, tables or chairs. Just give us a call today and we will be happy to help you get the right dolly for your equipment!
For example, here is a dolly perfect for moving inflatables: 
And the perfect dolly for your tables: 
How about a dolly for your stacking Chiavari chairs?
Save yourself from loosing your mind on the job site and get your dollies in advance. Save time and money with movers and dollies for tents, inflatables, tables, chairs and more!