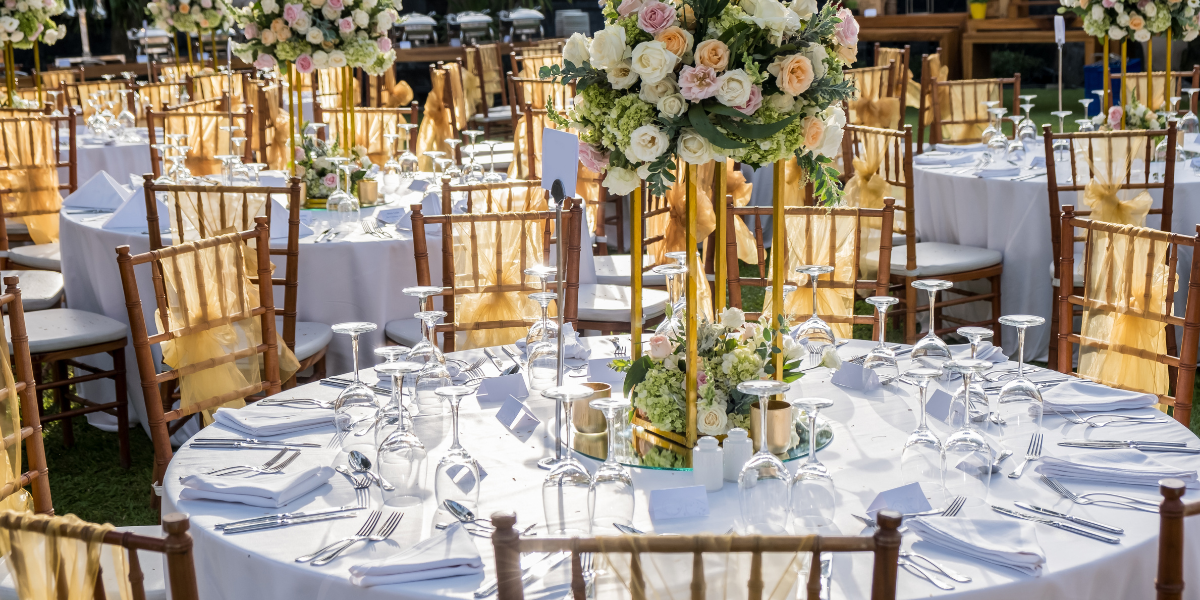 A Guide to Commercial Tables for Your Rental Business or Venue
Hosting a successful event requires careful planning and attention to detail. One crucial aspect that can make or break your guests' experience is the choice of tables. Whether you run a party rental business or manage an event venue, having the right commercial tables can significantly impact the ambiance and comfort of your guests. In this blog post, we'll explore the different options of commercial tables available on the market, including sizes, shapes, and materials. Additionally, we'll provide a perfect starter set of tables for your party rental business or event venue. Let's dive in!
Types of Commercial Tables:
Rectangular Tables: Rectangular tables are one of the most versatile options for event spaces. They come in various lengths, usually 6, 8, and 10 feet. These tables can be easily arranged in rows for conference-style setups or combined to create long banquet-style seating for larger gatherings.

Round Tables: Round tables foster a more intimate and social atmosphere. They are available in various diameters, with common sizes being 48, 60, and 72 inches. Round tables are perfect for weddings, galas, and smaller gatherings where guests can interact easily.

Cocktail Tables: Cocktail tables, also known as highboy or bistro tables, are essential for cocktail hours and networking events. These taller tables encourage standing and mingling, offering a chic and modern touch to your event.

Serpentine Tables: Serpentine tables are a unique choice that adds an elegant twist to any event. They have a gentle curved shape, allowing you to create interesting and flowing seating arrangements, ideal for buffet-style events or creative layouts.

Farm Tables: Farm tables have gained popularity for their rustic charm. Made from sturdy wood, they are a perfect option for outdoor events or country-themed gatherings.
Materials:
Commercial tables are made from various materials, each offering distinct advantages:
Wood: Wooden tables exude elegance and warmth, making them a popular choice for weddings and upscale events.

Plastic: Plastic tables are lightweight and easy to clean, making them practical for casual and outdoor events.
Perfect Starter Set for Your Business:
If you're just starting with your party rental business or event venue, consider investing in the following table set:
Tables for Different Event Sizes:
50 Person Backyard Party: For a cozy backyard party, opt for the following mix of tables:

Five 6-foot rectangular tables
Four 60-inch round tables
Two cocktail tables

150 Person Wedding: To accommodate a larger wedding party, consider using these tables:

Fifteen 6-foot rectangular tables
Twelve 60-inch round tables
Six cocktail tables
Four serpentine tables

250 Person Corporate Event: For a sizable corporate event, ensure you have these tables on hand:

Twenty 6-foot rectangular tables
Twenty 60-inch round tables
Ten cocktail tables
Six serpentine tables
Four farm tables
Rental Prices in 5 Major US Cities:
Table rental prices can vary depending on the city and specific vendor. Here are approximate rental charges for a 24-hour rental period in five major US cities:
New York City, NY:

6-foot rectangular table: $10-$15
60-inch round table: $12-$18
Cocktail table: $15-$25

Los Angeles, CA:

6-foot rectangular table: $8-$12
60-inch round table: $10-$15
Cocktail table: $12-$20

Chicago, IL:

6-foot rectangular table: $10-$14
60-inch round table: $12-$16
Cocktail table: $14-$22

Houston, TX:

6-foot rectangular table: $7-$11
60-inch round table: $9-$13
Cocktail table: $10-$18

Miami, FL:

6-foot rectangular table: $9-$13
60-inch round table: $11-$16
Cocktail table: $13-$22
Selecting the right commercial tables is crucial for the success of your party rental business or event venue. Consider the types, sizes, and materials that suit the nature of your events and target audience. Investing in a diverse starter set and expanding your inventory based on event sizes will set your business up for success. Lastly, research rental prices in your area to ensure competitive pricing while delivering exceptional service to your clients. With the right tables, you'll create memorable and delightful experiences for all your guests, whether it's a small backyard party or a grand corporate event.